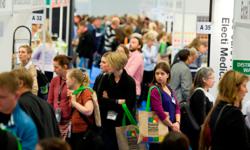 (PRWEB) October 24, 2012
Malmö, Sweden: The international showcase that the Scandinavian natural and organic products industry had been waiting for, Natural Products Scandinavia's inaugural event in Malmö, Sweden, has been hailed a big success. Taking place earlier this month on 14-15 October, the show enjoyed an enthusiastic reception from its 2,009 attendees, who travelled from all across Sweden, Denmark, Iceland, Finland, and Norway for the launch. Buyers from the USA, Spain, France, Hungary, Lithuania, Japan, Saudi Arabia, and the UK, were also seen packing the aisles to see the latest offering from 170 exhibiting companies from 25 different countries.
With 93% of visitors rating the show as excellent/good, Swedish health store retailer Gunnevi Sandwak from Life Europe AB, Scandinavia's leading retail chain for health products and services, was just one of many "very satisfied" attendees who left the event with a host of new trade contacts: "Natural Products Scandinavia was very good and very interesting. It was great to see so many new products and trends here!"
"Scandinavia certainly needs this event and a great turn out for the first show proves this!" says visitor Laura Lei Leitner-Eriksson, owner of Swedish natural products importers Aroha AB.
"This was a very good initiative and I found the show incredibly exciting!" adds Richard Hallgren, CEO of RNT (Responsible Nordic Trade) Nutrition AB, distributor of Vital Health Foods.
Having enjoyed strong industry and association endorsement from its inception, Natural Products Scandinavia's exciting two day line-up attracted many of the Nordic region's key health stores, pharmacy chains, wholesalers and distributors; including Sunkost, Hälsa för Alla, Life, Nature, Hälsokraft, Helsam, Validus Engros, and Frejborg Distribution. While nearly a quarter of all surveyed buyers in attendance reported a spending power of over €500,000 (7% of which reported over €5million). As a result, 52% of exhibitors have demonstrated their continued support for the new show by booking stand space for next year – when Natural Products Scandinavia returns to Malmömässan, Malmö, in October 2013.
Zoe Jackson-Cooper, Natural Products Scandinavia's event manager, is delighted with how successfully the launch has been received: "We always knew that Nordic consumers have a greater interest in healthy, sustainable living than virtually anywhere else in the world, and felt that a show like Natural Products Scandinavia would do well here. But we could never have prepared ourselves for the incredible reception that we have received from both exhibitors and buyers. It instantly felt like an established event with a great atmosphere, and everyone is saying that it was long overdue."
"In 25 years of organising trade shows this is, without doubt, the most successful launch I've been involved with," agrees Carsten Holm, managing director of the event's organiser Diversified Business Communications UK. "I've no doubt that the event will go on to further establish itself as the essential event on the international calendar – not just for Scandinavia but as a truly world-class international trade show."
The feedback received so far from exhibitors, visitors and the show's seminar speakers have been overwhelmingly positive. Notable highlights included sessions by EuroMonitor; UK retail guru Alf Dunbar; Turid Baker (director of BRN – the Norwegian association of food supplement suppliers); EAS director Simon Pettman; and Amarjit Sahota, president of Organic Monitor. Always a popular speaker at Diversified UK's Natural & Organic Products Europe event in London, Sahota's Keynote highlighted the trends and developments for natural and organic cosmetics in the European and Nordic market, and outlined the business openings in the current economic climate.
"With market growth rates slowing in Europe, the natural and organic cosmetics market is becoming highly competitive," commented Sahota. "The Nordic market is growing at a faster rate than other markets in Europe, albeit from a small base. Organic Monitor expects no reason why the natural and organic cosmetics market cannot emulate the success of organic foods in the region; for example the market share of organic foods has reached 7% of total food sales in Denmark."
Another show feature that certainly generated a wealth of visitor interest was Natural Products Scandinavia's New Product Showcase. With many launches timed specifically to coincide with the event, attending buyers were able to enjoy an exclusive preview of exciting new product developments, plus vote for their favourites throughout the day on Sunday 14 October.
The winners of Natural Products Scandinavia's prestigious New Product Showcase Innovation Awards 2012 are as follows:
Best Health Food Product:

Winner – Bounce Natural Energy Balls, Bounce Almond Protein Hit Balls
Runner Up – Nosh Detox, Nosh: the Raw Smoothie, Apple, Mint, Spiralina
Best Natural Beauty Product:

Winner – Biofood AB, Dr Organic Moroccan Argan Oil Hair Treatment Serum
Runner Up – Kenkou Selfcare AB, FaceClear
Best Health & Nutrition Product:

Winner – Good Night Snoring, Good Night Anti Snoring Ring
Runner Up – Natures Aid Ltd, Vitamin D3 Drops for baby & child
Best Eco & Sustainable Product:

Winner – Bodywise (UK) Ltd/Natracare, Natracare Ultra Pads
Dermanord Svensk Hudvård AB and Aura-Soma Products/AEOS were also named as the winners of the Best Space Only Stand and Best Shell Scheme Stand awards (respectively) by organiser Diversified UK. The runners up were Madara Cosmetics and Natural Balance Foods.
Thanks to key international visitors and a show floor that was buzzing with business throughout the two days, the award winners weren't the only exhibitors with reason to celebrate by the end of the event.
"Brilliant show – we've been waiting for this a long time! We had such a good first day – meeting all the big wholesalers across Sweden – that anything today is a bonus!" says Peter Kirwel, sales manager at Topas Klaus Gaiser GmbH from Germany, speaking on the second day of the show.
"Nice to experience an organic show in Sweden – hopefully it has come to stay!" says Marita Lindemann, product manager from Swedish wholesaler HGM Dryckservice AB.
"We've had a perfect show. It made it possible to showcase the whole range for existing clients and we've made a lot of new contacts and clients here," says Bernt Erik Henrikson, managing director of Frisørgrossisten AS (Norway).
"This exhibition has been a great platform for us, as a smaller company, to maximise our presence, to market our products and make new connections with other industry professionals," says Rolf Forslund from Kenkou Selfcare AB (Sweden).
"We've already booked for 2013 – we've met and engaged with Swedish and Danish retailers and distributors. Not having a Finnish distributor, now we have a choice of four! It's been a wonderful experience, good leads and excellent organisation. Well done Diversified – a good job done well!" says Susie Hewson, sales & marketing manager from Natracare (UK).
"Excellent show! Very interested buyers from the right target group in attendance. We found distributors in Sweden and Denmark, plus lots of interest from Scandinavian retailers," says Ahto Vegmann, development manager, Power of Nature (Estonia).
"A wonderful show, exposing us to the right people. I can't fault it!" says Andrew Thomas, founder of BetterYou Ltd (exhibiting with Health Sisters from Finland).
"A show like this has been missing for many years, and it's great that we now have this in the Nordic region," says Anders Lindqvist from Great Earth Scandinavia AB (Sweden).
"This is the best show that we have been to in the last 12 years. It has the right mix of buyers and a great audience. All attendees have the right ethics to be here," says Shaun Sargent from Aura-Soma Products/AEOS (UK).
"We are proud to have exhibited at the first ever Natural Products Scandinavia, and would like to thank all visitors who took time to vote for Bounce Natural Energy Balls as their favourite new health food product in the New Product Showcase. Bounce helps to nourish and sustain busy and active lifestyles, so Scandinavia is an ideal new marketplace," says Mark Tanous, managing director of Bounce Natural Energy Balls.
"Great event – it fills a real gap in the market place. A central meeting point for everyone involved in the Nordic health food industry – bring on the next show!" says Martin Groth, Swedish area manager for Biosym (Denmark).
Natural Products Scandinavia will return to Malmö, Sweden, on 20-21 October 2013. For further information, please visit http://www.naturalproductsscandinavia.com.
###
For press interviews, please contact:
Carsten Holm, Managing Director, Diversified Business Communications UK
t: +44 1273 645 114
e: cholm(at)divcom.co.uk
UK-based PR contact:
Emma-Louise Jones, PR Manager, Diversified Business Communications UK
t: +44 (0)1273 645134
e: ejones(at)divcom.co.uk
http://twitter.com/DiversifiedUK
http://www.divcom.co.uk
Exhibitor enquiries to:
Zoe Jackson-Cooper, Event Manager
Diversified Business Communications UK
t: +44 (0)1273 645141
e: ZoeJC(at)divcom.co.uk
http://twitter.com/NPScandinavia
http://www.naturalproductsscandinavia.com
Scandinavia office:
Lars Larsson, Project Manager
Nordenskiöldsgatan 13, S - 211 19 Malmö, Sweden
t: +46 (0) 40 970560
e: lars.larsson(at)halsofackhandeln.se
Notes:
Diversified Business Communications UK Ltd (Diversified UK) is a fast growing trade event organiser and publisher based in Brighton. In addition to Natural Products Scandinavia, Diversified UK's portfolio includes Natural & Organic Products Europe, lunch!, camexpo, office*, SITS – The Service Desk & IT Support Show, SITS Europe (Germany), Natural Products magazine and the Natural Beauty Yearbook.
Diversified UK is part of Diversified Business Communications, a leading international media company with a successful portfolio of sector leading exhibition, conferences, publications and websites.