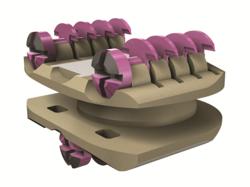 The NuNec disc provides the perfect combination of new materials and biomechanics versatility.
Houten, The Netherlands / Marquette, MI (PRWEB) October 24, 2012
Pioneer Surgical Technology, Inc., a leader in innovative medical devices, announces the successful implantation of 2,000 NuNec Cervical Disc Arthroplasty implants in the EMEA markets. NuNec is the first PEEK (PEEK-OPTIMA® polymer by Invibio®) cervical disc replacement (CDR) launched in Europe. The first NuNec implantation in the EMEA market occurred in Germany in November 2008.
NuNec is indicated for skeletally mature patients with cervical degenerative disc disease (DDD) for reconstruction of discs from C3-C7. DDD is defined as intractable radiculopathy and/or myelopathy with at least one of the following conditions confirmed via radiographic studies (e.g., CT, MRI, x-rays, etc.): herniated nucleus pulposus, spondylosis (defined by the presence of osteophytes), and/or the loss of disc height.
At its core, the NuNec device features a PEEK ball and socket articulation. The PEEK on PEEK design results in improved radiolucency and lower wear rates when compared to metal implants. The device utilizes a unique CAM interference screw locking mechanism to provide immediate and primary fixation and the endplates are coated with hydroxyapatite.
"The NuNec disc provides the perfect combination of new materials and biomechanics versatility, allowing great MRI post-operative imaging and excellent multi-level clinical results," says Tai Friesem, M.D., Clinical Lead of Spinal Unit at the University Hospital of North Tees, Stockton-on-Tees, United Kingdom.
"The unique technology of NuNec confirms Pioneer's commitment to developing quality solutions for healthcare practitioners and their patients," says James St. John, Executive Vice President of Global Distributed Spine. "This milestone is a huge success for our organization and we plan to continue this success with ongoing expansion into new markets."
For more information regarding Pioneer Surgical and our products, including NuNec, please visit the http://www.pioneersurgical.com/international.
About Pioneer Surgical Technology
Pioneer Surgical Technology, Inc. was founded in Marquette, Michigan in 1992. Since that time, Pioneer Surgical has developed successful products in the Spine, Biologics, Orthopedics, and Cardiothoracic markets. Pioneer has several facilities throughout the U.S. and in Houten, The Netherlands. The company employs nearly 300 people worldwide. Pioneer's state-of-the-art manufacturing capabilities differentiate it from others in the marketplace. This vertically-integrated structure greatly enhances Pioneer's ability to take an idea from the drawing board to commercialization. Pioneer demonstrates its commitment to surgical innovation by designing and delivering products that provide intraoperative efficiency for surgeons, cost-effectiveness for the healthcare system and better outcomes for patients. For more information on Pioneer and its products visit http://www.pioneersurgical.com.