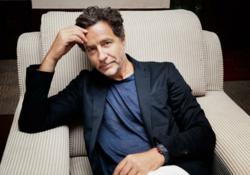 San Diego, Calif. (PRWEB) October 23, 2012
What: NewSchool of Architecture and Design's Lecture Series. Guest speaker is Paolo Giachi, an architect and retail designer for luxury fashion brands such as Prada, Fendi, Louis Vuitton and Jimmy Choo.
When: Wednesday, Oct. 24, 7 p.m.
Where: NewSchool of Architecture and Design auditorium, 747 Park Boulevard (or 747 West 12th Ave.), between F and G Streets. San Diego, Calif.
Cost: Free and open to the public. NSAD students and alumni have seating priority.
Who: Paolo Giachi designs retail projects for luxury brands at locations throughout the world, and he teaches interior design and retail design courses at the Domus Academy in Milan. He is currently teaching a graduate-level topics studio at NSAD on retail design with an emphasis on interiors. Learn more about him in this video: http://www.youtube.com/watch?v=ghrz1GHo6_8
Giachi has worked with some of the most esteemed brands in the fashion world. His work is described as a mix of architectural risk, innovation and elements of measured balance. Prior to entering the retail design field, Giachi earned a Masters in Architecture at the University of Florence, where he also taught after his graduation. In 1996 he took a position overseeing the design of new retail projects for the Prada Group. He developed 100 new projects for these brands over four years in New Zealand, Australia, Singapore, China, Korea and Taiwan. He returned to Italy in 2000 and collaborated with Diego Della Valle on the creation and design of Tod's and Hogan boutiques around the world. In 2002, Paolo Giachi opened his own independent studio of Architecture in Milan. Giachi also has designed luxury homes.
Both NSAD and Domus Academy are part of the Laureate International Universities network.
About NewSchool of Architecture and Design
NewSchool of Architecture and Design (NSAD), founded in 1980, is located in San Diego, California. NSAD is accredited by the Accrediting Council for Independent Colleges and Schools (ACICS). ACICS is listed as a nationally recognized accrediting agency by the U.S. Department of Education and the Council for Higher Education Accreditation. NSAD's Bachelor of Architecture, Master of Architecture and Executive Master of Architecture programs are accredited by the National Architectural Accrediting Board (NAAB). NSAD also offers a pre-professional Bachelor of Arts in Architecture, a Bachelor of Science in Digital Media Arts, a Bachelor of Science in Construction Management, a Master of Construction Management and a Master of Science in Architecture. NSAD was ranked among the top 10 undergraduate architecture schools in the western United States, according to the DesignIntelligence report "America's Best Architecture & Design Schools 2012." For more information, visit http://www.NewSchoolArch.edu.