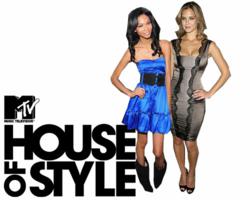 We are so excited to be able to bring fans behind-the-scenes of our world.
(PRWEB) October 26, 2012
The scope of reality television covers topics ranging from coupledom to crime, and in between these contrasts of love and war await an array of programs dedicated to the world of popular fashion. Today, Rodeo Drive Resale, online retailer of 100% authentic Marc Jacobs bags, Chanel heels, and St. John Knits, highlights the return of one of fashion's earliest reality series, MTV's "House of Style."
On October 9, "House of Style," the popular fashion series which premiered on MTV in 1989 rocked its way back onto the airwaves. During its 11-year run, the show highlighted notable designers such as Marc Jacobs, Chanel and Betsey Johnson as well as young stars that would go on to be major Hollywood players including Will Smith and Winona Ryder. Though the show has been gone for quite some time (it ended in 2000), it returned for a single episode in 2009, and MTV promises its 2012 reboot will offer viewers even more Style than its predecessor. "The idea of the new "House of Style" is that it runs on all of our platforms. MTV is a fully multi-media company. You'll see it on television, on the web, on our aps," said Dave Sirulnick from MTV. "Not a lot of people are looking to consume 20-minute television shows on their phones. At least not yet. We want to make it really accessible for our audiences. Pieces will get windowed on to television, with the notion of the ability to a longer form programming style. The documentary is a long form piece."
Supermodels Karlie Kloss and Joan Smalls the new HoS brings back the classic feel while incorporating a bit of viewer interaction.
"We are so excited to be able to bring fans behind-the-scenes of our world. We work in an amazing industry, there's a lot of fun to it, and this is such an incredible time in fashion," Kloss and Smalls said in a statement. "Blogs and social media have transformed the way we interact, and especially with fashion, allowing fans an intimate connection with what we do. The new 'House of Style' will intertwine video segments with expanded content on social platforms to truly bring fans into our world."
Kloss added that the timing could not be better for the show to return.
"I think now is such a special time in fashion," Kloss said. "I mean, when it first came around when Cindy [Crawford] launched 'House of Style,' but it was a special moment in fashion. And you know the thing is now a lot of the designers and hair and makeup artists and people that are creating all of this art still are still working so it's really special to interview them again."
The "House of Style" reboot was not the only fashion-based series to hit the airwaves during the second half of 2012, as the latest cycle of "America's Next Top Model" returned to television on August 24. The show, in which women compete for a chance at entering the modeling industry, has a fresh look, as "America's Next Top Model: College Edition" features participants who have enrolled or completed some form of advanced education.
Rodeo Drive Resale (shopRDR.com) has built a reputation of providing amazing deals on handbags, clothing and accessories from the top designers of upscale fashion. The company offers a 100% guarantee of authenticity on each item sold, and works daily with a network of clients looking to buy, sell, or for consignment of their luxury goods. ShopRDR.com loves high-end fashion, and believes finding a high quality, classic piece should be an easy, enjoyable -- and most importantly -- hassle-free shopping experience. For the finest in Louis Vuitton, Chanel, Prada, Gucci, St. John Knits, Christian Louboutin, Tiffany & Co. and more, visit RDR online at http://www.shopRDR.com or call 1-888-697-3725. Also find shopRDR.com's blog at http://blog.shopRDR.com.
Also find shopRDR at:
Blog: blog.shopRDR.com
Facebook: facebook.com/shopRDR
Twitter: twitter.com/shopRDR
YouTube: youtube.com/ shopRDR
Pinterest: pinterest.com/shopRDR
Rodeo Drive Resale (shopRDR.com)
1-888-697-3725
service(at)shopRDR.com