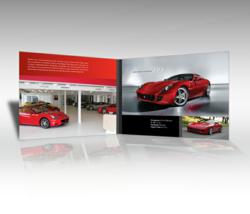 Our customers goals are our goals, and we never lose site of that.
San Diego, CA (PRWEB) October 23, 2012
Big things come from humble beginnings, and the story of Santora Media Group is no exception. August marks the sixth year that Matt Santora's company has been providing premium design and media solutions to the San Diego area and beyond. With such an achievement Matt took a moment to reflect on the progress that's been made.
"The path to Santora Media Group began in my living room. My heart has been set on sales since I was a boy and I've always had a passion for photography and graphic design. Once I realized I could develop a business around the things I love I wasted no time getting started."
And that's exactly what he did. Using every available resource Matt was determined to become a true expert of media production. In addition to traditional studies Matt developed a unique hands-on approach to further his understanding. He had found some vacant buildings that were set for demolition which he utilized as his own testing playground. Looking beyond the books, this was the perfect opportunity to apply and refine his knowledge of media applications. Anything from assessing adhesion on different surfaces to heat stress-testing glass, no material was spared in his self-made learning course. From business cards to building wraps, Matt ensures that the products and services purchased from his firm will be as impact-full as needed by his clients.
Five years later Matt Santora is leading with confidence and quality, and Santora Media Group's work can be attributed to his intricate business understanding and the simple passion of loving what he does. With his fundamentals of quality unwavering, he has sought to develop his business into a seamless three-tier media company providing top quality signs, printing and graphic design services. Companies will typically specialize in one of these departments, like San Diego Graphic Design Services, but Santora Media Group is redefining customer's expectations by providing a full breadth of services under one roof.
"We pride ourselves on the peace of mind our clients feel when working with Santora Media Group. Procuring different kinds of marketing collateral can be an unwelcome process, but our staff and services really come together to offer an easy, involved and inviting experience. This welcome consolidation of tasks allows our clients to focus more time on their business while knowing they are being taken care of here."
With a leading graphic design team, top of the line equipment and an impressive variety of marketing tools Matt Santora has spent the last five years ensuring his advertising company has a solid foundation and poised for the future. Premium quality output, professional staff and a winning strategy all point to a five years well spent.
Our mission is to offer creative, original, and powerful marketing collateral for our client's that encourages consumers to buy. We will always be enthusiastic and dedicated to our clients. We will perform our duties with the safest practices available, ensuring that Santora Media Group team members and vendors are able to perform their tasks without delay due to accidents. We will embrace new technology that makes our work more efficient, eco-friendly, and profitable. We provide business owners with a premier, fair priced source for graphic design, printing, and signs. We will keep in mind our reputation as a leader in quality, service, price, and turnaround every time we develop a marketing campaign. We will always keep in mind our impact on the environment, and the well-being of our community when making decisions. We will continually position our services and products to be attractive to the most successful and up and coming successes of the business world.