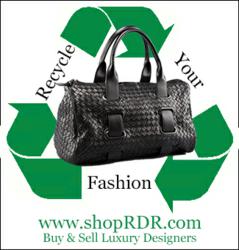 Shakespeare wrote, 'fashion wears out more apparel than the man,' and that phrase is even truer today.
(PRWEB) October 29, 2012
Rodeo Drive Resale (http://www.shoprdr.com), premier reseller of 100% authentic Christian Louboutin heels, St. John Knits, and Fendi handbags, examines the world of eco-friendly fashion and how purchasing from consignment stores can be a great way to save cash off designer fall fashions while remaining environmentally responsible.
As environmentalists and other social groups urge Americans to consider the effects their carbon footprint will have on future generations, giving a second life to a previously worn item is, for many, a fun and fashionable way to help Mother Earth. Those looking to grab great deals on pre-owned items from the most popular labels in designer fashion may want to consider consignment stores such as ShopRDR.com, an online reseller with over 10 years of experience buying and selling designer fashion over the web.
"Shakespeare wrote, 'fashion wears out more apparel than the man,' and that phrase is even truer today," Jo Paoletti, an American Studies professor at the University of Maryland said in a 2009 interview. "North Americans buy more clothing than they need, and thrift shops and charities are swamped with our leftovers."
Like thrift shops and charities, consignment stores are packed with pre-owned clothing; but since consignment stores are typically stricter on the quality and type of clothing they are willing to accept, shoppers are more likely to walk away with a winning piece that is 100% authentic and still in like-new condition.
For those new to consignment shopping, ShopRDR.com co-founder Raya Jaffer suggests setting aside enough time to dig for a winning piece: "Go with plenty of time to look. Unlike a regular retail store that may have a handful of styles in multiple sizes, a consignment store is going to have multiple styles but not a limited number of sizes. You will need time to browse hundreds, or sometimes thousands, of individual items. Shopping consignment online is a bit easier especially with a site like ours, which has the capability to narrow items down according to size, style, color and price range."
The deals keep rolling in at ShopRDR.com, for example, during "Christian Louboutin: Red with Envy," luxury enthusiasts can score big savings on an array of Christian Louboutin heels, all of which are backed by a 100% guarantee of authenticity.
ShopRDR.com's latest event is just one of several major promotions from the popular online reseller in the past several weeks, as shopRDR.com held both its Labor Day Weekend sale and its animal print campaign, "Walk On The Wild Side" last month. The successful Labor Day Weekend sale offered savings of up to 25% off all designer clothing and an additional 15% off all designer shoes with free shipping on orders of $200 or more, as well as 10% off all designer handbags, one of fashion's greatest investments, noted shopRDR.com co-founder Raya Jaffer: "Designer handbags typically do not go out of style, which is good because they can last for many years."
ShopRDR.com's red-bottom blowout could not have arrived at a better time, as around the globe, officials continue to crackdown on counterfeit luxury goods.
Rodeo Drive Resale (shopRDR.com) has built a reputation of providing amazing deals on handbags, clothing and accessories from the top designers of upscale fashion. The company offers a 100% guarantee of authenticity on each item sold, and works daily with a network of clients looking to buy, sell, or for consignment of their luxury goods.
ShopRDR.com loves high-end fashion, and believes finding a high quality, classic piece should be an easy, enjoyable -- and most importantly -- hassle-free shopping experience. For the finest in Louis Vuitton, Chanel, Prada, Gucci, St. John Knits, Christian Louboutin, Tiffany & Co. and more, visit RDR online at http://www.shopRDR.com or call 1-888-697-3725. Also find shopRDR.com's blog at http://blog.shopRDR.com.
Also find shopRDR at:
Blog: blog.shopRDR.com
Facebook: facebook.com/shopRDR
Twitter: twitter.com/shopRDR
YouTube: youtube.com/ shopRDR
Pinterest: pinterest.com/shopRDR
Rodeo Drive Resale (shopRDR.com)
1-888-697-3725