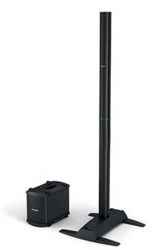 The best feature of this product is the sound to size ratio. You can get this rig upstairs with ease, and play a huge room, or a tiny room. The quality of the sound is excellent, and provides decent impact for the drums and bass
-Manny, AMS Customer
Oakland Park, NJ (PRWEB) October 29, 2012
American Musical Supply has decided to make Bose Portable PA Systems available to more musicians and DJs by providing a cheaper, more efficient way to acquire the necessary sound for live events. AMS is accomplishing this by giving free shipping, a free extended warranty, and 0% interest on Bose Portable PA System purchases.
The Bose line of Portable PA Systems has always been recognized as fine quality equipment, and now the Bose L1® Compact, L1 Model 1S, and the L1 Model II have never been more affordable. AMS is offering an extended warranty of one year beyond the manufacturer's warranty. They also provide free ground shipping on the aforementioned systems as well as EZ-Pay eligibility (option of smaller monthly payments in lieu of lump sum purchase) with 0% interest. AMS desires to make these systems attainable for all musicians to ensure access to premium performance equipment.
Performers would be hard pressed to find another PA system that provides the amazing live sound of these Bose systems. The sound spreads out evenly allowing a musician to play in a small room or even outside. Sound like that is rare, especially when the systems are lightweight and can easily be transported allowing for solo musicians to move the equipment around from gig to gig. This works especially well for DJs who normally work alone to provide entertainment for a large quantity of people. Select models also include the T1 ToneMatch® Audio Engine which can help the musician or DJ maintain the tone of various instruments and microphones. Each system also has an incredible variety as to the amount (up to 4) or type (B1 or B2) of bass modules that a performer can put together to get the powerful bass sound they want. To read full specifications of the new Bose Portable PA Systems or learn more about the exclusive deals offered by American Musical Supply, musicians and DJs should visit the American Musical Supply website and choose the system that best fits their needs to witness the savings for themselves.
We recently joined up with Boston musician Charlie Farren, an avid Bose L1 enthusiast, to talk about what he loves about the Bose L1 systems that he hasn't been able to find in other portable PA systems on the market. | Charlie Farren On Bose L1 Line Array Systems Video
###
Located in Oakland, New Jersey, American Musical Supply is a leading online merchant of professional and affordable musical equipment and supplies including guitars, amplifiers, live sound, DJ gear and more. AMS offers award-winning customer service and the American Musical Supply website has also been ranked in Internet Retailer's top 500 e-retailing businesses.