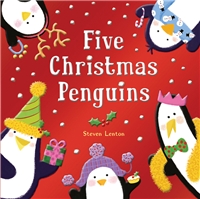 Get young children excited for the upcoming winter holidays with new titles from Silver Dolphin Books!
San Diego, CA (PRWEB) October 24, 2012
Silver Dolphin Books, a publisher of high-quality, novelty and activity based books for children aged 2-12 announced two new titles just in time for the holidays. With festive illustrations and bright colors, Five Christmas Penguins by Steven Lenton and Santa's Elves ABC by Sue DiCicco, will help to get young children excited for the upcoming winter holidays.
For ages 1-5, Five Christmas Penguins follows five spunky penguins who are working to prepare the best Christmas party ever. Whether zooming through the snow, decorating the tress or wrapping presents, artist Steven Lenton's adorable playful penguins will get kids in the holiday spirit.
Or head to the North Pole to help Santa's elves load his sleigh with Santa's Elves ABC. Using the alphabet to organize, this book combines the magic of Christmas with learning and beautiful illustrations. There are lift-the-flaps on every page and even a special surprise at the end of the book.
Both books contain bright colors and adorable illustrations and are sure to be favorites to be read for years to come.
Santa's Elves ABC – Sue DiCicco
$12.95
Ages 3 and up
ISBN: 978-1-60710-598-5
Five Christmas Penguins – Steven Lenton
$10.95
Ages 1 to 5
ISBN: 978-1-60710-599-2
Silver Dolphin welcomes you to follow @SilverDolphin on Twitter and visit our blog at http://blog.silverdolphinbooks.com for additional information on pub dates and book availability.
About Silver Dolphin Books:
San Diego, California-based Silver Dolphin Books (http://www.silverdolphinbooks.com) is the juvenile imprint of Baker & Taylor Publishing Group, a wholly owned subsidiary of Baker & Taylor, the global leader in the distribution of traditional and digital media. Silver Dolphin Books publishes novelty and educational nonfiction books featuring bold, colorful, and striking titles in interactive formats. Silver Dolphin books are a favorite of parents and educators alike and have won several awards, including the prestigious Oppenheim Toy Portfolio Award. With how-to and activity books for preschoolers through children 12 years of age, Silver Dolphin Books engage, enlighten, and entertain.
Media Contacts:
Baker & Taylor Publishing Group/Silver Dolphin Books
Press Beth Avant 858-457-2500, ext. 3602
Beth(dot)avant(at)baker-taylor(dot)com