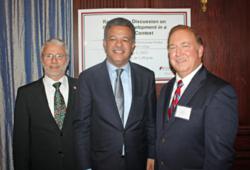 Purchase, NY (PRWEB) October 23, 2012
The Manhattanville College School of Graduate and Professional Studies (GPS) yesterday welcomed Leonel Fernández, former President of the Dominican Republic, to their campus for a landmark roundtable discussion, "Regional Development in a Global Context." Business leaders of various disciplines came together to discuss Westchester County's strategic advantages, challenges, and opportunities in the global marketplace. The roundtable also addressed the needs of Westchester's growing Hispanic population, a leading contributor to local workforce growth and spending. The roundtable was moderated by Matt Sampson, Anchor, News 12 Westchester/Hudson Valley.
Held in recognition of National Hispanic Heritage Month (September 15 to October 15), the lunchtime roundtable served as an opportunity for the GPS at Manhattanville to reaffirm its commitment to Westchester County's growth and prosperity by continuing its efforts to bridge countries and cultures. Participants discussed Westchester's regional development in a global context from both an economic and business perspective.
"President Fernández's visit to our campus and participation in this landmark roundtable is a testament to the strides that Manhattanville College is making in global education," said Dr. Anthony Davidson, Dean of the School of Graduate and Professional Studies at Manhattanville College. "We feel it is important to recognize the contributions of our citizens of Hispanic heritage during National Hispanic Heritage Month. By bringing together business leaders who truly understand Westchester's complex landscape, we also hope to pinpoint the strategic advantages of our county in the global marketplace."
President Fernández and Dr. Davidson were joined by Marsha Gordon, President and CEO of the Business Council of Westchester; Larry Gottlieb, Westchester County's Director of Economic Development; Fannie Aleman-Lansch, President of the Westchester Hispanic Chamber of Commerce; Marissa Brett, Executive Director of Economic Development at the Westchester County Association; Natasha Caputo, Director of Westchester County Tourism and Film; Dr. Anthony R. Davidson, Dean, School of Graduate & Professional Studies at Manhattanville College; Louis Scamardella, Assistant Director of the New York State Small Business Development Center; Stuart Marwell, CEO of Curtis Instruments; and Robert Weisz, CEO of RPW Group, among others.
During his twelve years in office, President Fernández focused on technological and infrastructural development as well as macroeconomic and monetary stability. He launched the country's first metro system and was recently honored as "Statesman of the Year" by the Canadian Council of the Americas.
"President Fernández brings a global perspective, keen insight into educational needs, and an intimate knowledge of the Hispanic community – one of the most vital economic groups in Westchester County and the United States today," said Davidson.
The Dominican Republic has the ninth largest economy in Latin American and the second largest in the Caribbean and Central American region. Despite the recession, the Dominican Republic boasted a 5.28% average growth rate between 2008 and 2011. The country's gross domestic product increased 4.5% in 2011 with record revenues in the mining sector, national export sales, and tourism.
The private, invitation-only roundtable took questions via live tweets that were simulcast on GPS's new events page (http://www.mville.edu/news-a-events/news/event-news/4045-roundtable.html). Those interested can follow GPS on Twitter (@mvilleGPS) and see a transcript of the discussion by clicking on #regionalandglobal or become a fan of GPS Facebook page at http://www.facebook.com/MVilleGPS.
About the School of Graduate and Professional Studies (GPS)
The School of Graduate and Professional Studies at Manhattanville College (http://www.mville.edu/graduate) offers extensive education options, including three Bachelor's degree programs, six Master's programs, Graduate Certificates, and Executive and Professional Education. Under the innovative leadership of its dean, Dr. Anthony Davidson, GPS has expanded its offerings in Business Leadership, Enterprise Risk Management, Executive Development and Advancement for Women, Paralegal Studies, and Health Care. The school's administrators and faculty bring extensive professional and business perspectives into the classroom. GPS is currently collaborating with educational institutions in the Dominican Republic to better prepare students for today's global economy.