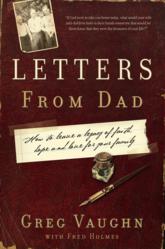 "Letters from Dad gives men the tools and confidence to do what they have always wanted to do, but didn't know how"
Dallas, TX (PRWEB) October 30, 2012
Greg Vaughn, President & Founder of Grace Products, and producer of the nationally acclaimed "Letters from Dad" project, has some great news. A generous donor, whose life was radically changed by participating in "Letters from Dad", has sponsored a grant to offer up to 1,000 sets of the Leadership & Training Kit to qualifying churches. There is but one catch: the qualifying church must actually "use" it.
The "Letters from Dad" project has existed for about six years and started with the death of Greg Vaughn's dad. Vaughn was frustrated with the fact, that although he knew his dad loved him, their relationship was not all that children need and want. That frustration led him to find a way to verbally and tangibly express his love for his children. That was a big task for him, he has seven children! To begin, he called some of his friends together and they made a pact to write four specific types of letters to their family over a four month period. They would be letters of blessing, love and affirmation to spouses, children and parents. It dramatically changed their lives. Those 12 partners soon grew to be 50, then 200, then over 500. It was then that Vaughn knew God had something more in mind.
Starting in 2006 "Letters from Dad" was released to the general church population, and to date nearly 40,000 men have participated in the project. Vaughn says "Letters from Dad gives men the tools and confidence to do what they have always wanted to do, but didn't know how". Because of its public interest and the theme of writing, almost every major newspaper in the country has featured the story.
The grant program is running smoothly with about 150 churches participating so far. The Grace Products team is striving to find churches that might be financially hindered to partake in the project on their own. They explain the grant requirements and ship them all the Leadership & Training materials at no cost. The response ranges from incredulous, to shock and extreme thankfulness. It's hard for some to believe that over $300 worth of ministry material is being given away for free, but it's true, and many are very willing to take advantage of the donor's generosity. For more information about "Letters from Dad" go to http://www.lettersfromdad.com.
About Grace Products Corp.: Greg Vaughn, president, founded Grace Products Corp. in 1979. The company has produced 8 full length feature films, 12 teaching and counseling series, and 11 Emmy-Award winning historical movies. "Letters from Dad" was born from Vaughn's desire to connect with his family on a more tangible, meaningful level. Grace Products offices can be reached at 800-527-4014.