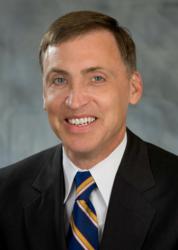 Gainesville, FL (PRWEB) October 24, 2012
Long-time CPAmerica International member and managing partner of Gelman, Rosenberg & Freedman CPAs, David Graling was recently named to the inaugural Managing Partner Elite list in the October 2012 issue of Accounting Today.
Graling was recognized for expertly managing the transition of its founding generation, his own succession and ultimately positioning GRF for future success.
"It's an honor to be selected for Accounting Today's Managing Partner Elite list. I know many managing partners who are successfully leading other accounting firms throughout the country," Graling said. "I think this honor reflects not only on my personal leadership but also on the vision our firm pursues to deliver the highest quality financial, tax and consulting services to clients."
Graling's leadership extends beyond GRF; he is an active member of the CPAmerica association and has served as chair of the Board of Directors.
"We want to congratulate David Graling on being selected as a Managing Partner Elite," said Alan Deichler, president of CPAmerica. "His expertise and leadership have been true assets to the membership during the fourteen years his firm has been a member of CPAmerica."
About CPAmerica International:
CPAmerica International, a national association tied to the global community, is made up of 80 large independent CPA firms. CPAmerica provides practice management support, continuing education, marketing, online services and other programs for the improvement of its member firms. As a member of Crowe Horwath International, the association has more than 650 offices worldwide, and combined firm revenues of the alliance approach $3 billion. Learn more about CPAmerica on Facebook and Twitter.