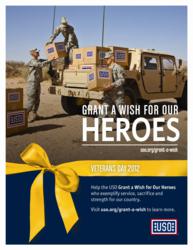 USO offers concrete ways, big and small, to show our troops that Americans appreciate their service and sacrifice.
Arlington, VA (PRWEB) October 23, 2012
The USO and partners will recognize Veterans Day with Grant a Wish for Our Heroes, an initiative that will give Americans opportunities to thank those who serve in the Armed Forces by granting wishes for our troops and their families by supporting them in a variety of ways. Through Grant a Wish for Our Heroes, Americans can take part in supporting the unique programs and services most requested by our troops and families by supporting the USO and its many partners at uso.org/grant-a-wish.
"Grant a Wish for Our Heroes is a call to action for anyone who wants to take a moment and give back to our troops and military families in the ways they've told us helps the most. USO offers concrete ways, big and small, to show our troops that Americans appreciate their service and sacrifice," said Sloan Gibson, president and CEO of the USO. 'We value our partners' commitment to help USO grant these wishes, delivering what's needed to our men and women in uniform at home and abroad on Veterans Day and every day."
For years, troops and families have been telling the USO what programs and services they need the most through a comprehensive annual survey, "Tell USO," and the USO has responded. Our programs help ease the stress of deployment for both troops and their loved ones. Others provide the comprehensive support our servicemen and women need when they return home. And many help our wounded, ill and injured troops as they recover and re-enter their new lives as veterans.
This Veterans Day, the USO asks Americans to help support these USO programs and initiatives that our troops have requested most:

Corporations, media partners and a variety of community organizations have signed on to the USO's "Grant a Wish for Our Heroes" this Veterans Day include:
To learn more about Grant a Wish for Our Heroes, visit uso.org/grant-a-wish which highlights our USO corporate partners, USO best-in-class program partners and our USO locations and events that are granting wishes this Veterans Day.
# # #
About the USO
The USO (United Service Organizations) lifts the spirits of America's troops and their families millions of times each year at hundreds of places worldwide. We provide a touch of home through centers at airports and military bases in the U.S. and abroad, top quality entertainment and innovative programs and services. We also provide critical support to those who need us most, including forward-deployed troops, military families, wounded warriors and their families and the families of the fallen.
The USO is a private, nonprofit organization, not a government agency. All of our programs and services are made possible by the American people, support of our corporate partners and the dedication of our volunteers and staff. In addition to individual donors and corporate sponsors, the USO is supported by President's Circle Partners: American Airlines, AT&T, Clear Channel, The Coca-Cola Company, jcpenney, Kangaroo Express, Kroger, Lowe's, Northrop Grumman Corporation, Procter & Gamble, and TriWest Healthcare Alliance and Worldwide Strategic Partners: BAE Systems, The Boeing Company, Lockheed Martin, Microsoft Corporation and TKS Telepost Kabel-Service Kaiserslautern GmbH & Co. KG. We are also supported through the United Way and Combined Federal Campaign (CFC-11381). To join us in this patriotic mission, and to learn more about the USO, please visit uso.org.