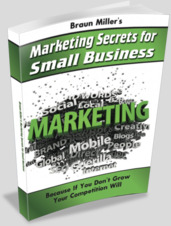 San Diego, CA (PRWEB) October 24, 2012
Braun Miller, a local online marketing expert, has announced today that along with the new arrival of his book Braun Miller's Marketing Secrets for Small Business they are also available for presentations on local online marketing. Presentations can be made in private or for an entire group of registered participants.
Braun Miller's new book is a guidebook of sorts, and takes readers though the perils of local online marketing. Available for sale on Amazon.com, this book covers everything that should and shouldn't be done when it comes to marketing any local business online.
"Did you know that near 64% of the Gross Domestic Product comes directly from local businesses? How about the fact that there are 2.6 billion online searches conducted every month, which is only growing. Add to that the fact that 98% of anyone searching online will choose a company they see on the first page of results with 70% of all clicks going to the top three spots and it's easy to see that statistics don't lie, every local business needs to be online," said Braun Miller
Possibly more exciting than the book though is the announcement that Braun Miller will now be available for private or group presentations. Braun Miller has been a frequent speaker at many local business functions, but this is the first time that their talents are being offered individually or to groups. Public and larger groups are also encouraged to contact Braun for a speaking engagement. According to Mr. Miller, there is a Q&A session after each presentation which will allow attendees to get any questions they may have answered right away.
When asked why a business owner should go to a presentation as opposed to just buying a book, Braun replied, "Consumers are looking for everything these days online and while my book will help you immensely, there is nothing like a little one on one time with me and my colleagues. The book spells it out, but I go into great detail to explain things like identifying your ideal customer, using the right keywords, personal branding, website layout and SEO, how to get ranked, article marketing, blogging, and so much more."