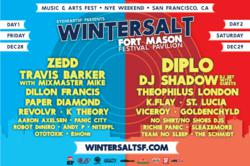 We saw a huge opportunity to change the dynamic of San Francisco over New Years Eve Weekend...and we went for it.
San Francisco, CA (PRWEB) October 23, 2012
In an effort to bring something new to San Francisco's music and entertainment scene, the Eye Heart SF Team is proud to present the premiere of Wintersalt Music & Arts Festival taking place at the historic Fort Mason Festival Pavilion on Friday, December 28th & Saturday, December 29th. As a follow up to the successful Summersalt Music Festival in 2010, the 18+ event will now go indoors into the massive Festival Pavilion featuring two stages with 10+ acts per day. Wintersalt will be produced with the high quality that people have come to expect from Eye Heart SF events, with an emphasis on creating a unique experience for both attendees and performers.
In addition, Wintersalt has partnered with ToTT Global to highlight Art Exhibitions featuring both national and local artists. Full line-up of participating artists will be released 2 weeks prior to event.
To round out New Years Eve weekend in San Francisco, Eye Heart SF will host its 4th Annual award- winning New Year's Eve event, Streets of San Francisco NYE. The past three sold-out events brought world- class production and talent including Steve Aoki in 2010, and Z-Trip in 2011 In an effort to support the community and space that will be housing the event, a portion of the proceeds from every ticket sold to Wintersalt and Streets of SF NYE will go to benefit the Fort Mason Revitalization Campaign.
The Eye Heart SF Team, made-up of Nate Mezmer, Matt Seliga, Michael A. Fitzgerald, and Anthony Black, has produced large-scale events for nearly10 years in San Francisco. In association with BLAP
Productions, Popscene & Live 105.3 FM, the talent and entertainment for Wintersalt and Streets of SF (New Years Eve 2013, are highlighted by international and local acts with an eclectic mix of rock, indie, electronic dance music, and hip hop, as well as supporting the growth of countless emerging genres across the board.
The full line-up taking the stage for the premiere of Wintersalt Music Festival will be: Diplo, Travis Barker with Mixmaster Mike, Zedd, DJ Shadow, Latyrx (Lyrics Born & Lateef), Theophilus London, Dillon Francis, Paper Diamond, St. Lucia, K.Flay, Viceroy, Revolvr, Aaron Axelson, Goldenchyld, Panic City, K Theory, Richie Panic, Sleazemore, Team No Sleep, Andy P, No Shirt/No Shoes DJs, Robot De Niro, EshOne, OtotoxiK, El Cool J, and The Schmidt.
The Streets of SF NYE 2013 event boosts an incredible line-up of world-recognized turntablists A-Trak and DJ Craze, along with Sam Isaac. Entry into the event is for those patrons 21+ and each GA ticket price includes Open Bar access all night long.
(MORE)
Other partnerships and sponsorships include Scion, Red Bull, Vitamin Water, Heineken, SF Weekly, Vita Coco, Sol Republic and Collective Effort Events.
Sponsorship packages, ticket info, vendor applications, & artist applications can be found through the official festival website at http://wintersaltsf.com.
Wintersalt's social networks include: Twitter, Facebook, Instagram, and Pinterest.
Twitter: @WintersaltSF
Facebook: http://facebook.com/WintersaltSF
Instagram: @wintersaltSF
Pinterest: http://pinterest.com/WintersaltSF
For additional info, high-resolution press photos, producer and entertainer bios, or to be added to the press release receipt list, use the contact information below:
Contact: Anthony Black
anthony[at]eyeheartsf[dot]com
Ph: 415-867-4463
(###)