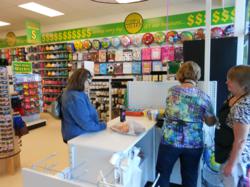 Macomb, MI (PRWEB) October 31, 2012
Cova Dollar Store is a new, affordable and high-quality dollar store with a wide range of items from essentials to accessories, toys, kitchen and bathroom items, stationary, and a whole lot more. It is located at 16400 26 Mile Road, Space 11, Macomb, MI 48042. With a huge selection of unique affordable merchandise, Cova Dollar Store is expected to bring even more business to the area while providing a more affordable place to shop for the local community.
Cova Dollar Store offers all of the traditional items generally found at a dollar store for the same low price, however according to the owners it is able to offer higher quality items thanks to a great supply network. Categories include baby items and toys, balloons, batteries, candles, cleaning supplies, crafts, food items, frames, hardware, hair accessories, health and beauty products, houseware, jewelry, paper products, party supplies, pet care items, toys, office supplies, and much more.
Dollar Store Services assisted Cova and Leila Scheffler in securing financing, locating the site, negotiating the lease, business training, store build-out, securing a network of wholesale suppliers, and is committed to providing ongoing business and marketing support. Scheffler was impressed with the entire process including the store build-out, "Mike was great with the build-out." You can find out more about Dollar Store Services by following the link above.
Discount Retail Store Services helps entrepreneurs start a business by providing each of the core tasks needed to succeed from securing financing all the way through grand opening plus ongoing support. Please follow the link if you would like to start a business. They have opened nearly 3,000 independently owned stores and specialize in six business models including dollar stores, clothing stores, teen stores, party stores, mail box stores, and fitness centers. You can get upcoming news on Facebook.