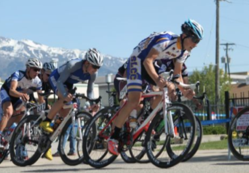 This race was a huge highlight for me and made me realize how great the cycling community in Utah is.
Salt Lake City, UT (PRWEB) October 23, 2012
Cortlan Brown won the USA Cycling Collegiate Road National Championship riding for Salt Lake Community College. Brown's winning time for the Division II race was three hours twenty minutes and twelve seconds—placing him one second ahead of Edward Grystar from Brown University.
The race was held in Ogden, Utah, giving Brown, who hails from nearby Bountiful, Utah, a home course advantage. "I'm from here, so luckily I've had a chance to do a few rides up it," Brown said.
A crash in the race's first lap involving about half of the field of 93 knocked 17 riders out of the race. "I was about 10 wheels back or so and watched a guy a couple riders to my leftcross wheels with the guys in front of him and he went down sliding sideways taking out a row of people all the way across the road," Brown said. "When I looked back to see what had happened all that I could see was a wall of bikes and people on the ground."
The crash split the pack, but the group left behind was able to make up ground, eventually catching the lead group with the help of a strong display of sportsmanship. "The pace on the front did not let up and we continued on with a group of only about 20," Brown said. "Finally after people began to realized what had happened we slowed down to let the guys from the wreck get back one especially because it was so early on in the race."
A breakaway by a Colorado Mesa College rider left the rest of the pack as much as three minutes behind. The Colorado Mesa rider's lead was down to under a minute when the race reached Ogden Canyon.
"Heading down Ogden canyon was pretty cool, we weren't going very fast so it was cool to just look around and take in the amazing place that we live. More than once I heard someone say, 'this is so cool.'"
The pace then slowed as the riders braced themselves for the pain they would have to endure on the steep ascent.
The final ascent was where the race was decided. "It was brutal," Brown said. Brown stayed at the front of a fairly large lead group as it started up the final climb. "There were still a lot of us on the lead group," he said. "I stood up and put in a good two or 3 pedal stroke Kick, looked back and we lost about 10 more people."
"It was awesome to hear a lot of the local crowd cheering us on," he said. "I think people were surprised to see someone from Utah on the front."
As the climb went on, Brown worried that his breakaway group had not put more distance between itself and more riders. "I started paying close attention to every one around me and everyone was breathing super heavy and I could tell everyone was hurting—including me," he said. Even after the climb, Brown had enough energy to sustain a bit more effort. "I knew I had more so I gave it another hard 10 second kick, sat back down looked back and saw that except for one other guy every one else was moving backwards.
After weathering a couple more attacks, Brown and Grystar were able to separate from the field. "Me and Eddie [Grystar] from Brown went over the top together," Brown said. Near the top of the climb—about 8 kilometers from the finish—Brown and Grystar had to navigate several cars that were in the way. Unaware of how close the pack of riders they had left behind was, the two remained together for the race's final descent. "I let it rip as fast as I have ever descended anything in my life," he said. In a scene reminiscent of Breaking Away, Brown went over 60 miles-per-hour several times. "I was gaining on the highway patrolman in front of me."
Brown and Grystar kept working together even up until the final stretch of the race.
"Eddie [Grystar] and I just gave it everything we had on the flats all the way into the finish," Brown said. "As we approached 1 km to go we both sat up not wanting to be the first one to start the sprint. But I knew we had to go so I punched it at about 500 meters to go." Near the end of the race, Grystar remained close on Brown's wheel, even as the riders navigated some technical, winding stretches of road. Brown accelerated through a 90 degree corner about 200 meters from the finish, knowing the margin that would separate the final riders would be narrow.
"I took the final corner about as fast as I have ever taken a corner, swinging way wide then giving the hardest sprint I had. I was so stoked to not see any one come around me and to cross the line first, although it took a minute of 20 to set in."
Calling the entire event awesome, Brown thanked those who attended the race and otherwise supported him. "This race was a huge highlight for me and made me realize how great the cycling community in Utah is," he said.
Brown also did well in the previous day's Criterium race, placing 16th overall. Brown maintained an average speed of 27 miles-per-hour over the race's 70 minutes. Held in downtown Odgen, the Criterium featured the same field as theroad race. "It was a cool course—a bit sketchy, but then again that's how I feel about most crits," Brown said. "When we began staging it knew it was going to be a tough race lots of strong big guys and no hills to get away on. I knew the key was going to be to stay pretty close to the front and just surviving."
Brown earned a total of 220 points in the competition, more than all but one rider at the national championships. Complete results below:
Division II Men
1. Cortlan Brown (Bountiful, Utah/Salt Lake City Community College) 3:20:43
2. Edward Grystar (Oakmont, Penn./Brown University) +0:01
3. Ryan Sullivan (Nashville, Tenn./CumberlandUniversity) +0:39
4. Anthony Olson (Kasota, Minn./Minnesota State University - Mankato) same time
5. Erik Levinsohn (Williamstown, Mass./Williams College) s.t.
Division II Men
1. Ryan Sullivan (Nashville, Tenn./CumberlandUniversity) — 269 points
2. Cortlan Brown (Bountiful, Utah/Salt Lake City Community College) — 220 points
3. Edward Grystar (Oakmont, Penn./Brown University) — 202 points
5. Robin Carpenter (Philadelphia, Penn./Swarthmore College) — 195 points
5. Sebastian Scherf (Mars Hill, N.C./Mars Hill College) — 192 points
About the College: Salt Lake Community College is an accredited, student-focused, urban college meeting the diverse needs of theSalt Lake community. Home to more than 62,000 students each year, the College is the largest supplier of workforce development programs in the State of Utah. The College is the sole provider of applied technology courses in the Salt Lake area, with 13 sites, an eCampus, and nearly 1,000 continuing education sites located throughout the Salt Lake valley. Personal attention from an excellent faculty is paramount at the College, which maintains a student-to-teacher ratio of less than 20 to 1.
# # #