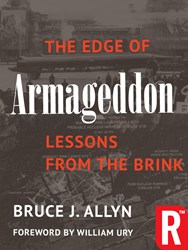 "Fifty years later, The Edge of Armageddon offers readers a unique perspective into the 1962 Cuban Missile Crisis," said RosettaBooks CEO Arthur Klebanoff. "RosettaBooks prides itself on publishing primary historical accounts."
New York, NY (PRWEB) October 25, 2012
RosettaBooks, the leading independent eBook publisher, has released Bruce Allyn's seminal memoir about meetings in 1989 with key participants in the Cuban Missile Crisis, The Edge of Armageddon: Lessons from the Brink. The fascinating eye-witness account of the Cold War players' reflections on this pivotal time captures a fly on the wall perspective of history in the making. The eBook original has been widely covered in sources like The Atlantic and Time.
"Truly captivating, it reads like a page turner, using insiders' history of the Cold War to illuminate how we pulled back from the brink then and how we can deal effectively and peacefully with our differences now," said William Ury, who contributed the Foreword.
Allyn worked to convene a 1989 Moscow meeting that included Soviet Foreign Minister Andrei Gromyko, former U.S. Ambassador Anatoly Dobrynin, and Sergei Khrushchev who edited the secret memoirs of his father, Soviet Premier Nikita Khrushchev. Former U.S. Defense Secretary Bob McNamara, former National Security Advisor McGeorge Bundy, and former Kennedy Special Counsel Ted Sorensen rounded out the table on the American side. Also, Fidel Castro sent his top Politburo member and an Army General to the Moscow meeting, later hosting a final dialogue in Havana.
Lessons learned and shared by those who were involved in the near-nuclear crisis helped pave the way to the breakthrough in relations between the former Soviet Union and the United States in the late 1980s and the end of the Cold War.
"Fifty years later, The Edge of Armageddon offers readers a unique perspective into the 1962 Cuban Missile Crisis," said RosettaBooks CEO Arthur Klebanoff. "RosettaBooks prides itself on publishing primary historical accounts." The 50th anniversary of the famous "13 days in October" concludes October 27.
The Edge of Armageddon also provides a detailed account of the KGB's efforts to try to recruit Allyn to spy for the Soviet Union.
In addition to his organizing role in this series of meetings, Allyn had previously acted as a bilingual rapporteur for a 1983 Harvard-Soviet Joint Study on Crisis Prevention. He later became Director of the Study after a series of visits to the former Soviet Union.
"One lesson is that human beings can be extreme, irrational, and suicidal," said Bruce Allyn."Our meetings showed the danger of revolutionary authoritarian regimes provoking catastrophe when cornered and faced with military action, reminding us today of Iran, North Korea, Libya, or Syria."
About RosettaBooks
RosettaBooks is the leading independent eBook publisher. RosettaBooks publishes such timeless classics as Brave New World, Slaughterhouse-Five, The 7 Habits of Highly Effective People, and the complete works of Winston Churchill. RosettaBooks has published ten Kindle Singles, including Ray Bradbury's The Playground, nine of which are Best Sellers. RosettaBooks can be found on Facebook. For more information, please visit RosettaBooks.com.