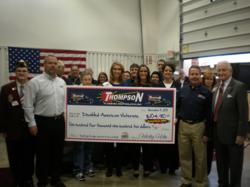 In my opinion, Veterans Day is the most important day to give thanks in our country.
Cincinnati, Ohio (PRWEB) October 25, 2012
Veterans Day is not just another day off work; it is a day to honor America's veterans for their bravery, patriotism, and willingness to serve and sacrifice for the common good. Join Thompson Electric, Plumbing, Heating and Cooling this Veterans Day to pay tribute to the veterans that make our nation great.
Thompson's fourth-annual Veterans Day event will take place on Veterans Day, Monday, November 12, at the offices of Thompson Electric, Plumbing, Heating and Cooling. The event program includes a catered breakfast, U.S. Army Color Guard, Miss Ohio 2012 Elissa McCracken, and the 2012 Check Presentation for Veterans.
The event is open to the public and will take place from 7 a.m. – 9 a.m., with Thompson's Check Presentation to honor local fallen hero Army Cpl. Nicholas H. Olivas made at 8 a.m.
"In my opinion, Veterans Day is the most important day to give thanks in our country. Veterans Day is a dedication to America's servicemen and women. A dedication to the debt we owe to Warriors lost, disabled and to all of our military forces who continue to defend freedom around the world," said Wesley Holm, owner of Thompson Electric, Plumbing, Heating and Cooling.
"These are men and women who have honorably served throughout our nation's history; who stood and continue to stand fast in the face of a determined enemy and defeat them with unwavering discipline. Most people don't know what they experience.
They don't know what these soldiers endure in combat, nor do they understand the selflessness and love of the brothers besides them. Men and women within this community bring the fight to the enemy, engage aggressively and stand their ground.
These men and women could have chosen a life of prosperity and chased every opportunity afforded by our great nation. Giving life as they live it, they chose to leave these pursuits behind and devote themselves instead to a higher calling – Courage, Sacrifice, and Dedication to the United States of America," Holm added.
At 8 a.m.-sharp, Thompson will present a check to Marian Olivas, a loyal client of Thompson Electric, Plumbing, Heating and Cooling whose son was killed in the line of duty this year. Ms. Olivas will receive a check in the amount of $10,000 for her to donate to a charity of her choice.
Army Cpl. Nicholas H. Olivas is a patriot and hero who was killed on May 30, 2012, while serving Operation Enduring Freedom. Nicholas was a Fairfield Senior High School graduate, married to Faith Compton Olivas and a father of a young son, Connor. Nicholas was killed in Zharay, Afghanistan when his unit was attacked by an improvised explosive device.
This is the fourth straight year that Thompson will be making a donation to veterans for the invaluable services they perform. Since 2009, Thompson and its loyal customers have raised and donated over $104,000 for veterans.
Another highlight of the Veterans Day event is the attendance of talented and inspiring local role model Elissa McCracken, a.k.a., Miss Ohio, who will also sing at the event.
Thompson Electric, Plumbing, Heating and Cooling's Veterans Day event is an excellent opportunity for locals to show their support to veterans. Last year, more than 300 attended the celebration at Thompson's headquarters. Veterans in attendance represented World War II, Korea, Vietnam and the Middle East.
"I'm sure we can all be thankful for the people throughout the many years in the history of this country who have made incredible sacrifices in defending America," said Holm. "I wanted to try and do something special for the many veterans in our community who have served on behalf of this country."
RSVP is required by calling (513) 981-2499 or by sending an email to veterans(at)333help(dot)com. Reservations are limited, so call or email today!