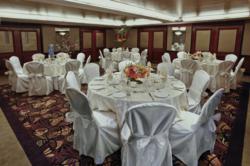 We approach the holiday season with an inclusive mindset and it is our hopes that many will join us in the overall festivities that time of year offers
Great Neck, New York (PRWEB) October 24, 2012
The Inn at Great Neck will be hosting its annual Christmas Tree Lighting Ceremony on Thursday, December 6th 2012 at 5:00PM. The Hotel will have an array of festive holiday décor both inside and outside of the Hotel and attendees will enjoy and be treated to hot chocolate, hot apple cider, entertainment and some holiday treats. Rumor has it that Santa Claus may even make an appearance. Great Neck residents and others from surrounding areas throughout Nassau County and Queens are encouraged to attend and spread the word. The Inn at Great Neck's Christmas Tree Lighting Ceremony and overall holiday décor is intended for all to enjoy and is ultimately a holiday celebration for all.
On the same day the Hotel will be hosting their BIG/little Holiday Party, which is intended for small offices to enjoy big holiday festivities in the Hotel's ballroom, which can accommodate up to 180 attendees. The BIG/little is intended to provide a big holiday atmosphere, which includes an array of holiday décor, entertainment, cocktail hour, extensive dinner buffet, premium open bar and dessert. Attendees will also have the chance to win some raffle prizes from the Inn at Great Neck and some of their sister properties. The Hotel's BIG/little starts at 6:00PM and will end at 10:00PM. Right now the Hotel has approximately 50% of the ballroom reserved and it is expected to be sold out in the near future. The cost to participate in the event is an affordable $50.00 per person plus tax and gratuity. For every ten seats reserved or table of ten, the Hotel is offering one complimentary seat. All reservations to attend the event must be in and paid for by November 30th. For more information please contact the Inn's corporate sales manager by visiting their Contact Us web page.
When the Hotel's general manager, Franklin Manchester was asked more details about their Christmas Tree Lighting Ceremony and their BIG/little Holiday Party he said, "It's just a special time of year and we want to do things that are pleasing to the majority of people living and working on Long Island. Our holiday traditions, decorations and events are for all to enjoy. We approach the holiday season with an inclusive mindset and it is our hopes that many will join us in the overall festivities that time of year offers. It's my belief that the holiday season is a time to really just celebrate life and give thanks for what we have in our lives."
For additional information regarding the Inn at Great Neck's holiday events please visit their website at http://www.InnAtGreatNeck.com. The Hotel is also offering a variety of special discounted rates and packages for out-of-town guests throughout the holiday season. Be sure to take advantage of them while the Inn still has availability.