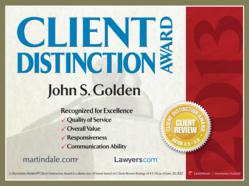 Florida (PRWEB) October 23, 2012
The American Registry is entirely committed to recognizing excellence in various fields and occupations, including attorneys that have attained a high level of client satisfaction, honors and achievements in their field of practice. Once an attorney has been rated for ranking as one of the best, and once they have been recognized for their outstanding achievements, they are added into The Registry – The American Registry of Business Excellence.
Attorney John Golden of Golden Traffic Ticket Law has been officially recognized by The American Registry of Business Excellence for his outstanding achievements in the legal field and for excellent client satisfaction. The American Registry awarded attorney John Golden the Martindale-Hubbell® Client Distinction Award for providing outstanding service to his clients. In the letter from The American Registry, it stated that this honor was made possible by attorney Goldman's clients who took the time to compliment him in the following areas 1) communication ability, 2) responsiveness, 3) quality of service, and 4) value for the money.
According to the results that were complied, attorney Golden received a Client Review Rating Score of 4.5 or higher on a scale of 1 to 5. This is an incredible honor due to the fact that less than 4 percent of the 900,000 plus attorneys listed on martindale.com and lawyers.com have received this Martindale-Hubbell® honor of distinction.
Attorney John S. Golden, Esq., is the founder of Golden Traffic Ticket Law. Attorney Golden has been attorney of record in more than 40,000 traffic cases, and he is also a current member of the Florida Bar's Traffic Court Rules Committee. He initially received his Bachelor of Science degree in Marketing from Florida State University. He went on to graduate Summa Cum Laude (with highest honors) from Nova Southeastern University Law School in 1999, and he later became a member of the Florida Bar that same year.
Golden Traffic Ticket Law handles all types of traffic cases including speeding tickets, leaving the scene of an accident, DUI, stop sign violations, driving on a revoked license, bench warrants and much more. The firm prides itself on offering very affordable rates, typically ranging from $49 to $149, depending on the circumstances, and this is a one-time fee. Fines and court costs may apply and are additional. The firm also offers a money back guarantee for civil infractions, some restrictions apply. The firm offers a free consultation where prospective clients can speak personally with attorney Golden about their case. To learn more about the services the firm has to offer, please call (877) 680-7575 or go online at http://www.GoldenTrafficTicketLaw.com.