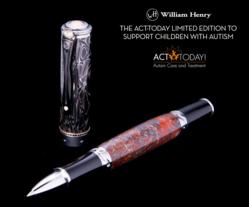 This is of the first pens in history ever made with dinosaur bone - Matt Conable
Malibu, CA (PRWEB) October 24, 2012
William Henry, the legendary luxury brand founded by Matt Conable, has created an 8-piece special edition pen celebrating ACT Today!'s 7th anniversary. All profits from the retail sale will be donated to ACT Today!. In addition, an unprecedented one-of-a-kind pen will be donated for the event's auction. The exclusive 8-piece edition, features a few of the rare and exquisite materials that are the hallmark of William Henry's work: the barrel of the pen is made from 100-million-year old dinosaur bone, originally found and legally harvested in Utah, while the cap is made from hand-forged Damascus steel, about 120 layers of three different steel alloys woven together by one master blacksmith. The pen's accents include black diamonds set into a 18K gold ring in the cap, a rose gold logo, a white diamond set into the clip, and all is trimmed in titanium, ceramic and ebonite.
This extremely limited series will be available on William Henry's website and through its network of retailers.
"We are proud to be able to create such an unique piece that will benefit children with autism," says William Henry Founder Matt Conable. "This is one of the first pens in history ever made with dinosaur bone."
"As an exquisite and luxury brand, William Henry demonstrates its impressive commitment to autism care and treatment with this extraordinary gesture," says ACT Today!'s Executive Director Nancy Alspaugh-Jackson. "William Henry's generous contribution will allow us to continue providing care and treatment to children with autism whose families cannot afford the necessary tools their children need to reach their highest potential."
According to the Centers for Disease Control and Prevention (CDC), 1 in every 88 children in America is diagnosed with an autism spectrum disorder (ASD), making ASD more prevalent than juvenile diabetes, childhood cancer and pediatric AIDS combined.
Proceeds from the 7th Annual Denim & Diamonds for Autism fundraiser will make it possible for ACT Today! to continue providing families access to therapy, medical care, assistance dogs, social skills programs, assistive technology, special needs camp, entrance into special needs school, and basic safety equipment (e.g. helmets and fencing).
About William Henry:
William Henry is an American luxury brand devoted to the vision of designing and creating superlative functional jewelry. Established in 1997, the brand started creating exclusive and award-winning pocketknives, effectively transforming the archetype of all tools into a superb piece of functional jewelry for men. Today's collections include fine jewelry, writing instruments, money clips, and golf tools.
The seamless integration of classic natural materials, precious metals & gemstones, and state-of-the-art alloys is a hallmark of William Henry's work. The brand creates limited editions only, and no two pieces are ever replicas. William Henry's collections are sold on its website and through a select network of authorized retailers in the US and abroad. For more info on WH visit http://www.williamhenry.com.
About ACT Today!:
ACT Today! (Autism Care and Treatment Today!) is a 501(c)(3) non-profit organization dedicated to raising awareness and providing treatment services and support to families of children with autism who cannot afford or access the necessary tools their children need to reach their full potential. For more information about ACT Today!, visit: http://www.act-today.org.