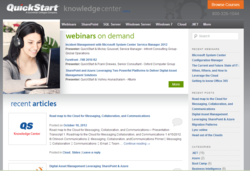 Irvine, CA (PRWEB) October 24, 2012
QuickStart Intelligence, the largest Microsoft Gold Learning Partner in the western United States, today announced the launch of the new online QuickStart Knowledge Center, an exciting resource for QuickStart students and others to find webinars on demand, insight articles, videos and even free eBooks on the latest technologies including SQL Server, Forefront, Microsoft System Center, Microsoft SharePoint and more.
Available at http://knowledge.quickstart.com, the QuickStart Knowledge Center features easy navigation through the constantly updated content featured. Users can easily comment and discuss the articles that are featured in a familiar blog structure. Recent posts to the QuickStart Knowledge Center include a Roadmap to the Cloud for Messaging, Collaboration, and Communications featuring both a slide presentation and complete writeup, an article about Digital Asset Management Leveraging SharePoint & Azure, and more.
Popular webinars on demand at the QuickStart Knowledge Center include SQL 2012 – PowerView, Azure Overview - Demystifying the Cloud – a company agnostic view of Cloud platforms and offerings, Incident Management with Microsoft System Center Service Manager 2012, Getting to know Office 365, and SharePoint and Azure: Leveraging Two Powerful Platforms to Deliver Digital Asset Management Solutions.
Also available in the QuickStart Knowledge Center are a menu of categories that parallel the popular QuickStart Learning Paths providing a quick and easy way for current students to augment their knowledge of the various disciplines they are pursuing, and for prospective students to become familiar with the various tracks that are available to them at QuickStart.
ABOUT QUICKSTART INTELLIGENCE
QuickStart Intelligence, a Corinthian Colleges Company headquartered in Irvine, CA, is a leading provider of IT training solutions with locations throughout the Western United States. For 23 years, over 200,000 IT professionals throughout the world have come to QuickStart as their source for IT technical and developer training. One of the largest privately held Microsoft Gold Learning Partners in the United States, QuickStart Intelligence has been recognized for an unprecedented four times as Microsoft's Worldwide Partner of the Year in Learning Solutions. For more information, visit http://www.quickstart.com.