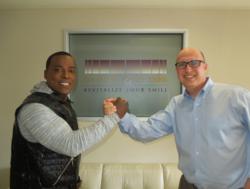 "Dr. Frey is a smile genius."
Beverly Hills, CA (PRWEB) October 24, 2012
Hip-hop artist, entrepreneur and philanthropist, Won-G works with top Beverly Hills cosmetic dentist, Dr. David Frey to revitalize his smile. Won-G couldn't be happier with his results stating; "now my smile matches my character and feels more natural." Dr. Frey is a smile sculptor whose work has been featured on Fox News, the Learning Channel, Discovery and People Magazine.
Preparing for his upcoming album, Won-G knew it was time to get himself in top mental and physical shape. Electing a cosmetic dental procedure was something that had been on his mind for many years but Won-G wanted to make sure he choose the right dentist to make this permanent change. After meeting Dr. Frey, Won-G knew he was in the right hands. The procedure was easy to go through and did not interfere with Won-G's busy schedule. Won-G appreciated how Dr. Frey checked with him after every step to make sure he was happy with the results and made any changes he asked for. After experiencing working with Dr. Frey, Won-G could only say "Dr. Frey is a smile genius."
For more information on transforming your smile, contact Dr. Frey's Beverly Hills office:
Dr. David Frey, 462 North Linden Drive, Suite 414, Beverly Hills CA 90210, 310.276.4537, http://www.perfectwhitesmile.com.
Follow Dr. Frey on Twitter @drfreydds
About Dr David Frey:
Dr. David Frey set up his private practice in 1990. Dr. Frey is an Instructor at the California Center for Advanced Dental Studies(CCADS), where he enjoys giving back to Dentists who want to learn. He is a graduate of the prestigious Las Vegas Institute for Advanced Dental Studies. He is a member of the California Dental Association and American Dental Associations, the Alpha Omega Dental Fraternity, the American Academy of Cosmetic Dentistry, and the West Los Angeles Dental Society. Dr. Frey spent a year in Israel working with underprivileged children at the Jerusalem Dental Center for Children.
About Won-G:
A pioneer in the independent music industry, Won-G has sold over two million albums through his own network of distribution. Won-G is the founder and CEO of Real Sovage, Inc. an entertainment, fashion and branding company. In the community, Won-G is a longtime supporter of children's charities, Haitian causes and the L.A. Police Department. For more information, visit http://www.won-g.com.