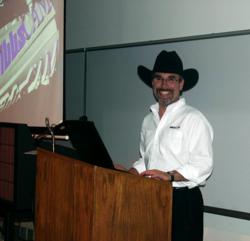 There will be 10 Okuma machines on display as well as metrology and automation equipment. Additionally, the Okuma THINC®-OSP control will be available for hands-on demonstration and trials.
Charlotte, NC (PRWEB) October 23, 2012
CNC machine tool manufacturer Okuma America Corporation and distributor Hartwig Houston are hosting an event on Thursday, November 15 that will focus on machine tool solutions designed to optimize profitability. There will be 10 Okuma machines on display as well as metrology and automation equipment. Additionally, the Okuma THINC®-OSP control will be available for hands-on demonstration and trials.
The Okuma machines on display include:

GENOS L300M horizontal lathe – 10" box way, 2-axis turning center with live tooling
LU-300 – 4-axis turning center – featuring a demonstration of Iscar tooling
LB3000 EX – turning center – featuring a gear hobbing demonstration
Multus B400 – multi-function turning center
VTT-70 – twin turret, 4-axis vertical turning center
2SP-V40 – twin spindle, 4-axis vertical turning lathe cutting a flange and coupling part
GENOS M560-V – vertical machining center
Millac 1052V – vertical machining center
MA-600HII – horizontal machining center – demonstrating Turn-Cut
LOC-650 – horizontal lathe – featuring AEC pipe handling system
Special guest Bill Gibbs, founder and president of Gibbs and Associates, the makers of GibbsCAM NC programming software, will be speaking on how manufacturers can use CAM software to improve profitability.
Attendees are invited to bring their challenging parts and machining problems to the event so Okuma and Hartwig application engineers, teamed with Partners in THINC members, can help them solve their manufacturing problems. To register, visit http://www.okuma.com/events/P2P121115.
Members of Partners in THINC, representing tooling, gauging, software and other machine tool accessory equipment will be on hand to discuss manufacturing challenges and help attendees reduce costs, increase throughput and improve quality.
The event is free to manufacturers. To learn more about this event and others, visit the Okuma events page at http://www.okuma.com/events.
About Okuma America Corporation:
Okuma America Corporation is the U.S.-based sales and service affiliate of Okuma Corporation, a world leader in CNC (computer numeric control) machine tools, founded in 1898 in Nagoya, Japan. The company is the industry's only single-source provider, with the CNC machine, drive, motors, encoders, spindle and CNC control all manufactured by Okuma. Okuma's innovative and reliable technology, paired with comprehensive, localized service protection, allows users to run continuously with confidence – maximizing profitability. Along with its industry-leading distribution network (largest in the Americas), and Partners in THINC®, Okuma facilitates quality, productivity and efficiency, empowering the customer and enabling competitive advantage in today's demanding manufacturing environment. For more information, visit http://www.okuma.com or follow us on Facebook or Twitter @OkumaAmerica.
About Hartwig, Inc.:
Founded in 1960 by Paul and Juanita Hartwig, Hartwig has grown into the largest machine tool distributor in the Midwest and Mountain region. Built on a foundation of fairness, after sales support and hard work, the company has grown to more than 160 employees covering 8 offices and 14 states including Missouri, Montana, Idaho, Utah, New Mexico, Wyoming, Colorado, Oklahoma, Texas, Nebraska, Iowa, Kansas, and Illinois. Hartwig prides ourselves on not just being a machine tool distributor, but a solutions provider intent on assisting customers control their destiny and keep manufacturing in the U.S. For more information, visit http://www.hartwiginc.com.
About Gibbs and Associates and GibbsCAM:
For thirty years, Gibbs and Associates has been a leader in providing cutting edge CAD/CAM technology, while maintaining its signature ease-of-use and productivity. Powerfully Simple, Simply Powerful is the guiding philosophy at Gibbs. Gibbs believes in empowering the NC programmer, machinist, and manufacturing engineer, not eliminating them. Gibbs' goal is to introduce manufacturers to new technologies and new ways of working that makes their machining easier and their businesses more profitable. To achieve this goal, Gibbs creates tools that are naturally intuitive, graphically interactive, extremely visual, associative, and just plain enjoyable to use. Gibbs provides a total quality solution with the service and support that successful customers require.
In January 2008, Gibbs and Associates merged with Cimatron Ltd., and is now operating as a wholly owned subsidiary. For more information about Gibbs and Associates and its CAM software packages, visit its web site (http://www.GibbsCAM.com) or call 1-800-654-9399 (outside of North America, call +1-805-523-0004).
###
Photo Attached: Bill Gibbs, Founder of Gibbs and Associates