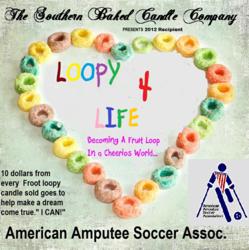 Columbia, SC (PRWEB) October 25, 2012
The Southern Baked Candle Co, an artistic custom candle shop in Columbia, South Carolina, recently announced the 2012 winner of their annual Loopy 4 Life drive, in which they would like participants to "Become a fruit loop in a cheerios world." Every year, the company's Facebook fans vote for their favorite charity, who receive $10.00 from the proceeds of every fruit loopy candle that is sold. This year the winner is the American Amputee Soccer Society. "On behalf of myself & the rest of the AASA board of directors we are extremely honored & flattered to be chosen as this years recipient. This fundraiser will help us to continue to reach, & work with, those who have lost a limb, including our veterans & wounded warriors, across the country," said Eric Westover, Vice President of the American Amputee Soccer Association & Goalie for the U.S. National Amputee Soccer Team.
The Southern Baked Candle Co is hosting a reception on November 1, 2012 at 6:30 p.m. at their store on 2718 Devine Street in Columbia, South Carolina. The reception is open to the public and guests are invited to come out to enjoy refreshments and meet members of the American Amputee Soccer team as they accept the award.
The American Amputee Soccer Society promotes social interactivity, self-esteem and self-confidence among adult men and women, and especially among veterans, new and youthful amputees through recreational and competitive amputee soccer programs. Members of the team have been featured on several national news shows, including "The CBS Evening," "60 Minutes". Tune in on November 1st, when Tyler Ryan, host of Good Day Columbia will be showing viewers how to play one legged soccer on WACH Fox 57.
"We are so honored to be connected with these amazing men, who literally gave an arm and leg to play in this league," said Debey Hancock, Master Chandler and owner of The Southern Baked Candle Company. "We want to salute them as the heroes they are."
To purchase a fruit loopy candle or for further information about The Southern Baked Candle Company products and to shop online for handmade, custom bakery candles, visit their website at http://www.thesouthernbakedcandlecompany.com or call (803) 456-3011.
About the company:
The Southern Baked Candle Company features custom Hand crafted "Bakery"and "Food"candles as well as custom candle and wax sculpture requests. The Southern Baked Candle Company serves the Columbia SC market and is located at 2718 Devine Street Columbia SC 29205. Through the success and direction of master chandler - Debey Hancock, the company has added a national web site for custom candles and wax sculptures at http://www.southernbakedcandle.com.