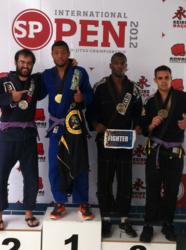 Elkridge, MD (PRWEB) October 23, 2012
Brazilian Jiu-Jitsu martial artists from Crazy 88 traveled to Florida for the Miami International Open of Brazilian Jiu-Jitsu and returned with numerous titles.
On Saturday, October 20th, the International Brazilian Jiu-Jitsu Federation (IBJJF), held its annual Miami International Open. Considered the most prestigious organization in the community, the IBJJF runs multiple tournaments per year, culminating in the World Championships.
Timothy Michael Spriggs, a graduate of St Johns University and currently a Brazilian Jiu-Jitsu Purple Belt, continued his unbeaten streak this season. Spriggs won five matches in dominating fashion with double digit points or submission (tap-out). He was awarded two Gold medals - one for the Heavyweight category and another for the Open All-weights category.
Devon Delbrugge, 18 year-old, performed the same feat in the Blue Belt division, winning all his matches. He won the MIddleweight division, tapping out his first opponent with a choke and then by disqualification. In the finals, he shared the title with teammate Joey Ruggiero.
Multiple other athletes also medaled in the respective divisions. Tye Ryan Murphy (Gold - Purple Belt Middle), Cathy Tran-Zwanetz (Silver - Purple Belt Light, Silver - Purple Belt Open), Monica Barlow (Gold - Blue Belt Feather, Silver - Blue Belt Open), David Zwanetz (Bronze - Purple Belt Light Feather), and Gerardo Trevino (Gold - Blue Belt Juvenile)
All athletes train at Crazy 88 Brazilian Jiu-Jitsu, a professional Mixed Martial Arts training center located in Howard County, Maryland.