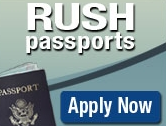 Ordering an expedited passport online from a reputable expeditor is important
New York, New York (PRWEB) October 23, 2012
Having a U.S. Passport expedited online is probably the only option for people who need to travel Immediately. Here are the steps and documents needed to get a new adult passport expedited online.
The applicant's travel date must be within 14 days or 30 days. If a visa is needed it's possible to use a Registered Expediter/Courier to obtain the passport on very short notice.
You will need to provide these items and documents to get started.
1) Passport application (DS-11), complete but do not sign.
2) You will need to fill out a Letter of Authorization allowing Fastport Passport to act as your agent on your behalf.
3) One Photo Copy of your ID ( Drivers License or State ID issued more than 6 months ago)
4) Original Birth Certificate or Certified Copy or Citizenship Documents.
5) Copy of Proof of Travel ( Itinerary )
6) Check or Money Order Made Payable to U.S Department of State.
7) 2 Passport Photos.
After all these Items are collected the next step it's time to go in front of a U.S. Passport Acceptance Agent who will witness the applicant sign their application, verify their ID and place all documents into sealed hand carry envelope and return it. That hand carry envelope to can be sent for expedited delivery.
Travelers set for international travel in the next two weeks who still need a new adult passport expedited can check out Fastport Passport for passport expediting services available nationwide