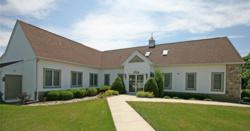 Bucks County, PA (PRWEB) October 24, 2012
Dr. Edward A. Marcus of Floral Vale Periodontics & Implants, P.C. provides individualized teeth replacements with dental implants. As a periodontist, he is very aware of the different things that can impact the mouth; teeth can be knocked out in an accident, need to be removed because of excess decay, or even fall out as a result of gum disease. Although having a gap-toothed smile is an embarrassing result of missing teeth, it is by no means the worst part of the problem.
Without teeth to stimulate the jawbone, it can begin to resorb and become weak. This can lead to a number of problems such as allowing teeth near the gap to become loose and move. In turn, this leads to issues with being able to eat certain foods and even speaking clearly. Dental implants are one of the procedures that can make a real difference.
People can safely have dental implants placed by Dr. Marcus because of technological advances in dental procedures. There are some conditions that must be brought to the attention of the periodontist to determine whether or not they could affect the patient's ability to receive implants.
For instance, if the teeth have been missing for a long time, there could be quite a bit of bone loss. If this is the case, bone grafting may need to be performed prior to the procedure. Other issues such as medical conditions, existing dental work or gum disease may need to be dealt with before treatment can begin.
Some of the benefits of dental implants include the fact that they are made of titanium. This substance melds with the bone and imparts strength to the implants. In addition to being strong enough to eat most foods, they are comfortable in the mouth and look very natural. To learn more about implants, go to http://www.mercerbucksperiodontist.com.
Floral Vale Periodontics & Implants, P.C., is a periodontal practice offering patients personalized dental care for the Bucks County area in Pennsylvania. Dr. Marcus received his undergraduate and dental education at Temple University where he graduated ranking first in his class from dental school. His post-doctoral training in Periodontics and Fixed Prosthodontics was completed at Temple University School of Dentistry. Dr. Marcus is one of only a handful of dentists in the United States that holds American Dental Association accredited specialty certification in both Periodontics and Prosthodontics. Dr. Marcus has over 30 years of experience in dentistry, and is part of one percent of dental professionals providing the most recent FDA cleared laser procedure for gum disease and periodontal treatment. To learn more about Dr. Edward A. Marcus and his dental services visit his website at http://www.mercerbucksperiodontist.com and call (215) 600-4962.