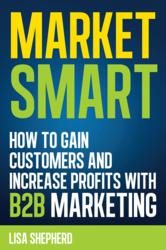 If marketing is not your area of expertise, but is one of your roles, this is your book.
Toronto, ON (PRWEB) October 24, 2012
Business to business marketing specialist Lisa Shepherd today announced the launch of 'Market Smart: How to Gain Customers and Increase Profits with B2B Marketing'. It's a book for B2B companies who want to grow sales and need help with their marketing to achieve that goal. Market Smart is geared towards small and mid-sized Canadian B2B companies that don't have the knowledge and experience to get the word out about their products and services.
"Canadian business to business companies are excellent at what they do technically," says Shepherd. "But when it comes to telling the world about what they do and how it benefits their customers, that's where many falter. They don't have that American brashness – shouting from the rooftops isn't in their Canadian DNA, and they end up selling themselves short. To put in bluntly, many Canadian B2Bs suck at marketing and Market Smart can help them improve and grow their businesses."
For many B2B organizations – especially those in traditional industries - marketing isn't a core competency or something that's in their comfort zone. Twenty years ago, B2B companies didn't have to market like today. They attended a few trade shows, employed a couple of capable sales people, and they were all set. But with global competition and new ways of doing business, B2B companies have to get smart about marketing to enhance awareness of their products and services, gain new customers and increase profits. Marketing has become a matter of survival.
Companies know they need to market, but many don't know where to start. Market Smart is written for them. It's an easy read that's heavy on practical and executable ideas. It offers expertise, examples and insights for companies that don't have marketing experts in their ranks.
Shepherd's book isn't for companies with multi-million dollar marketing budgets. It's for those who have never had a defined marketing plan, or even a dedicated marketer. It's for leaders of B2B companies who wear the marketing hat for their business, whether they want to or not. And it's for administrators and coordinators who aren't trained marketers, but end up in that role by delegation.
In this comprehensive guide, you'll learn how to:

Develop a B2B marketing strategy with a practical 3-step process
Identify what B2B customers really want and what will make your company stand out
Choose the right B2B marketing tactics for your organization
Create a realistic action plan
Set goals
Budget and manage your B2B marketing activities
Implement effectively
"If marketing is not your area of expertise, but is one of your roles, this is your book," says Shepherd. "I like to think of it as a smorgasbord of useful information for executives, administrators, even engineers who are responsible for marketing their companies but haven't had time to train and learn this critical specialty skill."
Market Smart includes snippets and guidance geared to the non-marketer. Without going into too much detail on any one topic, it offers a helpful overview of everything you need to know to effectively communicate your message to the people that need to hear it.
If you work in a B2B company and want to put marketing to work to gain customers and increase your profits, Market Smart is a good first step. The official launch event will be held at the Harbour Banquet & Conference Centre in Oakville on November 20th from 5:30-7:30pm. The book is currently available for sale on Amazon.com and more information is available at http://www.marketsmartb2b.com.
*About the author
Lisa Shepherd is the founder and president of The Mezzanine Group, a B2B strategy and marketing company based in Toronto, Canada. She has worked with over 200 companies to increase their profits through effective marketing, and has grown Mezzanine into a four-time winner of PROFIT's Fastest Growing Company award. Lisa is a recognized expert on B2B strategy and marketing, and speaks and writes extensively on B2B growth. Her expertise has been featured in The Globe & Mail, PROFIT Magazine, 20/20 Magazine, the Toronto Star and the National Post.