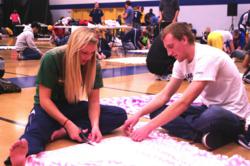 Sheboygan, Wis. (PRWEB) October 23, 2012
More than 200 Lakeland College student-athletes teamed up for an all-athletic department community service project Sunday night to make blankets for the Sheboygan County chapter of Project Linus.
A portion of the Wehr Center Fieldhouse was turned into a production facility filled with music, pizza and the spirit of service as the Muskies became "blanketeers" for a few hours.
By the time they were done, more than 170 fleece blankets were produced and donated to Project Linus, a national nonprofit which provides love, a sense of security, warmth and comfort in the form of a new, handmade blanket to children who are seriously ill, traumatized or otherwise in need.
The local Project Linus chapter receives between 1,200-1,500 blankets a year from volunteers. Local chapter organizer Mary Yurk said donations often come from churches or school groups, but they're generally in small quantities.
"This has never happened where we get so many blankets as a result of one night of work," Yurk said. "This is incredible. So many lives are going to be touched by these students doing this, and their lives are going to be touched, too. The best blankets we get are made by young people because they want to truly make a difference."
Lakeland's women's basketball team has made blankets for Project Linus in the past. The athletic department decided to expand the effort and enlisted members of Lakeland's Student Athlete Advisory Committee and Lakeland senior Jessie Eichner, who is serving a sports studies internship with Assistant Athletic Director April Arvan, to purchase the supplies needed and coordinate the workforce to get the blankets made.
"Our teams do a lot of community service within their programs, so we didn't feel it would be difficult to ask them to do another couple of hours together as a department," Arvan said.
Lakeland coaches each had a table in the fieldhouse, and athletes formed teams at various tables. They were encouraged to join a group that didn't include their regular teammates.
"When our student-athletes first came in the gym they were together in their teams," Arvan said. "Now they're all mixed together working on their blankets. We want all our student-athletes to get to know each other, and what better way than working together to help children in need?"
The blankets made Sunday at Lakeland could be sent anywhere in the world, Yurk said. "You're not going to know where they go," she told the students before they started working, "but you'll know they go with a lot of love."