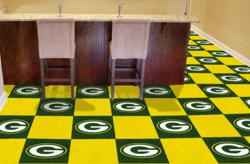 With these three additional product lines, we believe we now offer a larger selection of carpet tiles than any other online retailer.
Chandler, AZ (PRWEB) October 25, 2012
Rubber Flooring Inc. has now expanded their selection of carpet tiles to include brands such as IronWeave, Fan Mats, and TrafficMaster. Numerous other name brands are also available from the major intent retailer including Shaw, Milliken, and more.
"We are excited to launch three new name brand carpet tiles," states RubberFlooringInc.com Lead Merchandiser Lamont Robbins. "Over the past six months, we have worked extremely hard to expand our product lines in order to include more carpet tile options. We believe adding these product lines will help us continue to gain market share in this competitive niche market." Mr. Robbins continues, "With these three additional product lines, we believe we now offer a larger selection of carpet tiles than any other online retailer. In the future, we are also hoping to add a few more name brands so that we can become the one stop carpet tile shop."
FanMats carpet tiles offer a modular carpeting system that is officially licensed by the NFL, NBA, MLB, NCAA, and NHL. IronWeave carpet tiles offer a durable commercial grade carpeting solution designed for use as gym flooring and general commercial grade carpeting. TrafficMaster tiles are perfect for the DIY home owner who is looking for the lowest cost carpet tile product available today.
Orders for carpet tiles have been increasing steadily at Rubber Flooring, Inc. according to the Director of Operations Justin Hoverson. "When you launch new products, it often takes them a little time to get going. After our initial launch, sales filtered in slowly. This is what we expected since we knew it would take time for our marketing efforts to begin to work. Over the past several weeks, we are starting to see the sales grow faster and faster. We believe adding a larger selection of modular carpet tiles will only help RubberFlooringInc.com gain more market share in the carpeting industry."
"We have come a long way since our initial product launch into carpet tile squares," concludes Merchandiser Robbins. "In the coming month, we hope to add a few more brand names to the list. We are also working to expand our commercial and outdoor carpeting lines. If we continue to do that while maintaining competitive prices and excellent customer service, we believe we will grow to become the largest online retailer in the carpet tile marketplace." Mr. Robbins continues "If you look at where we stand now, we already have a larger selection than the Lowes and Home Depots of the world. Soon we will have a larger selection than just about any local flooring retailer. If we can get to that point, than all we should have to focus on is making sure that we are providing the best customer shopping experience in the market. If our company can do that and have competitive prices, then we should be successful."
About RubberFlooringInc.com, a subsidiary of IncStores.com.
Headquartered in Chandler, AZ, RubberFlooringInc.com owns the leading online destination for residential and commercial specialty flooring and matting options including RubberFlooringInc.com, FoamTiles.com, and Garage FlooringInc.com. Rubber Flooring Inc. is focused on providing the best selection of gym flooring, garage flooring, and foam mat products online to its valued customers. All of IncStores.com web shops offer competitive pricing, a top notch and knowledgeable in house sales and service staff, and the widest selection available. For more information, please visit http://www.rubberflooringinc.com.