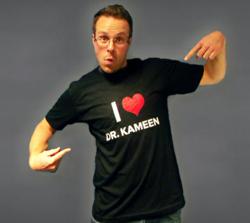 We do this every day but our patients don't so we approach each procedure with that attitude. - Dr. Kameen
Baltimore, Maryland (PRWEB) October 25, 2012
Jeff St. Pierre is a part of the top rated morning show team on Baltimore's country music station 93.1 WPOC. However, for years he has been plagued with blurry vision from an astigmatism. Although it is a common myth that LASIK can't help those with an astigmatism, in fact, LASIK eye surgery is regularly used to correct vision for those with an astigmatism. Ready to end his battle with obtrusive glasses, he turned to Kameen Eye Associates for a clear vision victory!
St. Pierre has been in anticipation for his upcoming LASIK eye procedure for weeks. He states, "I can't wait to see clearly without my glasses!" The experience can truly be monumental. "Dr. Kameen actually came in during my consultation to talk to me about the procedure," said St. Pierre. "[He] was there for the whole ride checking my eyes, explaining the process and answering any questions I had. That really meant a lot to me."
As always, Dr. Kameen was thrilled to have his new patient sit up and see clearly. "We do this every day but our patients don't so we approach each procedure with that attitude."
The surgery took place Friday, September, 28, 2012 at Dr. Kameen's office located in Towson, Maryland. As St. Pierre goes under the laser he shares his life changing experience from the very beginning all the way through recovery. Follow his LASIK story, including pictures, videos, blogs and more at kameen.com/stpierre.
Don't forget, Flexible Spending Accounts (FSAs) are a tax-free way to save on LASIK. Check your with your employer to see if your company to use those funds for laser vision correction.
About Kameen Eye Associates
Kameen Eye Associates is Baltimore's premier eye practice, specializing in laser vision correction (LASIK and PRK) as well as refractive cataract surgery, with a special emphasis on achieving independence from contact lenses and eyeglasses. Excellent patient care in a calm and peaceful environment is the primary goal of each member of the team. In addition, Kameen Eye Associates has received national recognition as one of the most technologically advanced practices in the country.
Dr. Anthony J. Kameen, with over 25 years of experience, is considered one of the most respected eye surgeons in the country. He has performed over 10,000 PRK procedures, 60,000 LASIK procedures, 2,000 astigmatic Keratotomy procedures and 10,000 Cataract with lens implant procedures. He has been listed as a Top LASIK Surgeon by Madison Media, has received the "Top Doctor" awarded from both the VISX Corporation and the LVCI Corporation, and has been awarded LCVI's "Top Five" award given to the top five surgeons in the county.
Contact:
Katie Meeks
Kameen Eye Associates
410-339-7200