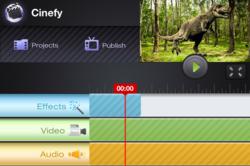 "We are offering users over 100 special effects created by Hollywood veterans to use in their videos."
West Chester, PA (PRWEB) October 24, 2012
Cinefy, a revolutionary new special FX studio, was released today for iOS. Hot on the heels of popular apps like Action Movie FX, Cinefy allows iPhone, iPad, and iPod touch users to create videos with over 100 Hollywood quality special effects.
"We took a look at the competition and tried to figure out where they went wrong," said Daniel Hellerman, CEO of App Creation Network, and project lead for Cinefy. "Other apps were charging users $1 for just one or two effects, we wanted to change that. For that same amount, we are offering users over 100 special effects to use in their videos. In addition to all the effects, we realized users don't want to be limited to 15 second clips, our editor allows users to create scenes as long as they need them to be. Users can even create layered effects with exported video, allowing for incredible creativity within the app. When users are done creating their movies in Cinefy, they can export them into more robust editors like iMovie, or simply share the videos with their friends to create the perfect Hollywood experience."
Launching worldwide today, Cinefy includes some impressive effects created by Hollywood industry veterans.
"Have your friends be chased by a T-Rex, duck to avoid incoming missile fire from an attack helicopter, run from the loch ness monster, even pilot your own starship," says Hellerman. "The possibilities are endless. The ability to construct the movies of your dreams, with a device that fits in the palm of your hands is incredible. Just from our limited release and early beta tests, we received some incredible videos. My jaw dropped at the creativity some of our users showed. One of my favorite parts was seeing users combine effects from our competition alongside Cinefy's effects. The video was astounding, and it was a great example of the flexibility Cinefy provides."
To see all the effects, download a copy of Cinefy today for your iPhone, iPad, or iPod Touch. It is available for $0.99 in the iTunes store.