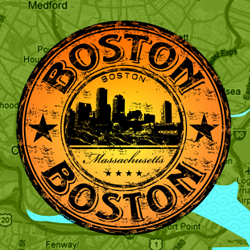 "Some would say it takes a little bit of magic to make a good infographic," says Hassan Bawab, Founder and CEO of Magic Logix.
Dallas, TX (PRWEB) October 24, 2012
Not only does Magic Logix, global digital marketing agency, provide highly informative key directives on inbound marketing practice, it does so in the form of a model infographic. The infographic is being released while Magic Logix appears at the Inbound Marketing Summit in Boston, and the name of the infographic is… the Boston Infographic.
Magic Logix, global digital marketing agency, releases the Boston Infographic in honor of the Boston Inbound Marketing Summit annual industry-wide inbound marketing event. The infographic informs on the five top issues of inbound marketing in a truly entertaining and captivating way.
The secret to a good infographic is the visuals because the information can be provided in a text, via podcast, or in a list format or any number of other ways.
The visual layout, color choice, imagery, sequence and format of the visuals come into play in an infographic and the variables are infinite. It takes skill, talent, boldness, maturity and wisdom, to do it just right. "Some would say it takes a little bit of magic to make a good infographic," says Hassan Bawab, Founder and CEO of Magic Logix.
Magic Logix's Boston Infographic contains a witty analogy between the Five Epic Battles of Boston and the Five Epic Battles of Inbound Marketing. Like the Sons of Liberty rebelled against the British government over the tea tax in the Boston Tea Party of 1773, Google finds exact match domains to be "spammy" where many SEO leaders use them.
To see the full story on this analogy and learn the other four top inbound marketing issues, as well as what goes into a model infographic, please see the infographic here.
About Magic Logix
Headquartered in Dallas, Texas, Magic Logix is a leading global digital marketing agency that drives client business growth by merging creativity, technology and online marketing. Through proprietary client intake, workflow and project management processes, Magic Logix consistently yields top quality results, client satisfaction and long-term relationships. Through continual discovery of new industry best practices and partnerships with industry leaders, Magic Logix delivers world class business expansion solutions to mid-sized to Fortune 500 companies and government agencies. Magic Logix continually ranks internationally in the top ten Web Design, SEO and Web Development firms by Top SEOs, Best Web Design Agencies, Interactive Media, Communicator Awards, Tech 200, is GSA certified and a fast growth company in Inc. 500. Our in-house staff works closely with clients to provide completely customized solutions using the latest technologies, best practices and originally developed approaches to produce top-quality ecommerce solutions, marketing automation tools, custom content management system (CMS) and customer relations management (CRM) integration, and dynamic Web presentations. For more information, please visit http://www.magiclogix.com. Stay connected with Magic Logix on LinkedIn, Facebook and Twitter.