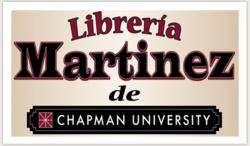 Orange, CA (PRWEB) October 24, 2012
WHAT: Grand Re-Opening of Librería Martínez, beloved Santa Ana community bookstore and literary resource, under its new partnership with Chapman University.
WHEN: Saturday, October 27 – Ribbon-cutting at 10 a.m., remarks at 11 a.m.
Celebration ongoing all day until 5 p.m.
WHERE: Librería Martínez, 216 N. Broadway, Santa Ana. Parking located at corner of 3rd and Broadway.
HOW MUCH: Free and open to the public.
DETAILS: In September 2012, it was announced that Chapman University had joined with Orange County cultural leader Ruebén Martínez as a full partner in his bookstore, Librería Martínez, located in downtown Santa Ana.
The bookstore, in partnership with Chapman, is now a non-profit educational venture. With Ruebén Martínez's guidance and collaborative leadership, Chapman University has assumed responsibility for the bookstore's operations, and is providing an enhanced business plan for the store's retail operation as well as opportunities for donor support. All proceeds from the store will be re-invested in the nonprofit educational initiative.
Librería Martinez de Chapman University, as the store is now known, will offer partnered programs with the university that include expanded literacy tutoring staffed by Chapman education students and faculty members, counseling programs to help students navigate the educational system, literature and reading clubs, monthly book discussions, author signings and free or low-cost reading materials. Chapman has also revamped the store's façade with a redesign that includes eye-catching signage.
Librería Martínez was founded (in 1993, when he added a small offering of books to his Santa Ana barbershop) and will continue to be directed by Ruebén Martínez, one of Orange County's most respected literacy advocates and cultural leaders. Martínez was the recipient of a MacArthur Foundation Fellowship (popularly known as "the genius grant") in 2004, and currently serves as a Presidential Fellow at Chapman University. He was granted an Honorary Doctorate in Humane Letters by Chapman University in 2011.