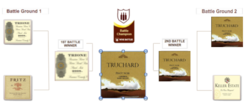 Truchard's Pinot was enjoyed by both long time wine lovers and newbies. It had near perfect balance.
San Diego, CA (PRWEB) October 23, 2012
Wine Battles is a tournament style social wine game where you drink amazing wines to become a more knowledgeable wine enthusiast. The first battle began on October 4 and after three weeks the winner was narrowed down to the best of the best—with several hundred votes cast, Truchard Pinot Noir was victorious.
"Wine Battles is a great way for wine lovers to get an education and to have fun with friends and loved ones at the same time," says Michael O'Brien, CEO of Wine Battles. "We are thrilled to announce Truchard as the winner of our first battle. It is a near perfectly balanced Pinot."
Truchard Pinot Noir comes from Truchard Vineyards which was founded by Tony and Jo Ann Truchard. Over the past 31 years the Vineyard has grown to 400 acres, of which 270 acres are planted. The 2009 Pinot Noir contains rich aromas of black cherry, cranberry and strawberry with subtle notes of citrus blossom, tea and earth. The mouth is silky and round with flavors of plum, rhubarb and sweet vanilla.
"We are proud to have won the first-ever Wine Battles competition," said Anthony Truchard II. "At Truchard our goal is to make the top Pinot Noir in Carneros and we're glad that is being recognized."
Truchard beat out Fritz Russian River Valley Pinot Noir 2010 in the first week of the battle, while the Keller Estate La Cruz Pinot Noir 2008 fell to Trione's Russion River Valley Pinot Noir 2008 in week two of the battle. In the final battle, Truchard beat Trione with several hundred members voting in the contest.
How Wine Battles Works:
During a battle, members receive two naturally contrasting bottles of the same varietal of wine each week. By tasting and voting, members decide which wine should advance to the next round. Battlers have the rare opportunity to interact with the wine merchants, as well as fellow wine lovers while exploring new wines and develop tasting profiles.
Members open, decant and rate the two wines using the five-construct system outlined in the Battle Guide – the scores come in real time and members are encouraged to share their findings. For either 3 or 7 weeks the wines compete in a peer to peer bracketed competition, until one wine emerges victorious. Battlers log back in on Monday to view the results.
"This wine game was perfect for inviting some girlfriends over one week and allowing for some alone time with my husband the next," said Shawn Rogers, a wine battler. "It is a great conversation starter, you get to learn new things and have fun at the same time."
For more information visit http://www.winebattles.com.
About Wine Battles
The Wine Battles is the world's largest (and most fun) wine competition! The unique company launched in October 2012 and is the first wine competition of its kind. Battles consist of four (Skirmish) or eight (Full Battle) wines with only one emerging as Battle Champion. Each week, members open, decant and rate two wines – the scores come in real time and members are encouraged to share their findings. The wines compete in a peer to peer competition bracketed competition, similar to World Cup Soccer or Madness, until one emerges victorious. Scoring and choosing the correct wines improves members' relative ranking on the website where they compete for awards.
About Truchard Vineyards
Truchard Vineyards is a family-owned winery located in the Carneros region of the Napa Valley. It was established in 1974, when the Truchards bought a 20- acre abandoned prune orchard, transformed it into a vineyard and began selling the fruit to a local winery. Through hard work and dedication they developed a reputation as one of the outstanding vineyards in the area. The Truchards now sell grapes to more than 20 premiere Napa Valley wineries and grow 10 different grape varieties, making it one of the most diverse estate vineyards in California.
In 1989, the Truchards began making wine for themselves using only their estate-grown fruit. These wines are hand-crafted using traditional winemaking techniques and exemplify the high quality fruit of the Truchard Estate Vineyard. For more information on Truchard, including tours and tastings visit truchardvineyards.com.
###