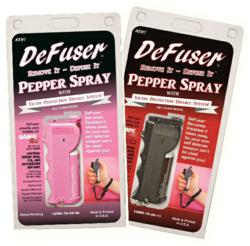 Legal in all 50 states.
East Bethel, MN (PRWEB) October 25, 2012
A top concern for many is the fear of their own pepper spray being taken away and used against them, and until now every available spray on the market could potentially be used against the victim. Sanford Strong, a retired San Diego police SWAT team instructor and author of Strong on Defense says, "According to the FBI and other National law enforcement studies, the number of times pepper spray is taken away and used against the victim is Staggering. Studies show that in over half of all instances where the victim was able to get to a weapon (usually sprays are mentioned) the attacker knocked it out of their hand before they could use it."
"Well, not anymore." says Chuck Dapper of Dapper Enterprises LLC.
Dapper Enterprises LLC dba "DeFuser®" is introducing the world's first pepper spray that can't be used against the victim if taken away during a struggle. DeFuser's design has a built in disable system that mechanically de-activates the unit if separated from its user, making it almost impossible for an attacker to use the pepper spray against the victim. Until now, any pepper spray could easily be taken away and used against the victim. Another key feature that makes DeFuser® the best pepper spray is that if the DeFuser® is taken away from the victim, not only is it rendered useless to the attacker, but the keys will stay attached to the victims wrist. With standard pepper sprays the key ring is permanently attached, and if the attacker takes the pepper spray away from the victim, they also get their keys and maybe even their car. It wouldn't be such a good feeling to have a protection device taken away within feet of your car, especially to find out that now they can't escape to safety because the attacker got the car keys as well. DeFuser® is here to help the consumer avoid this very problem.
DeFuser® is made right here in the USA and uses the only formula that is tested in a HPLC laboratory for heat level consistency. (Sabre Red USA) Recent studies have shown that up to 30% of pepper sprays fail due to batch inconsistency, users will not have this problem with DeFuser®. This unit gets up to 80% more shots than the competition, all while using the same size compact 1/2oz canister. DeFuser® gets an amazing 20 one second bursts at a range of over 10' and is designed with a stream delivery to reduce the risk of blowback. DeFuser® also features a flip-top safety & ergonomic grip design to ensure maximum comfort and control. DeFuser's formula is legal to carry in all 50 states and has a industry leading 4 year shelf life. If people are looking for where to buy pepper spray, then visit DeFuser's website for current specials with Free Shipping.
Click here to view DeFuser's "As Seen on TV": 60 commercial
DeFuser® has sparked the interest of the largest pepper spray manufacturer in the world (SEC Corp) and is already being distributed globally under a private label agreement with SEC Corporation.
"Dapper Enterprises hopes that by introducing DeFuser® that they will see a significant reduction in cases where pepper spray is taken away and used against the victim" Says Chuck Dapper founder and president of DeFuser®
For more information about how DeFuser® is going to revolutionize the pepper spray industry, or to schedule an interview with Chuck Dapper, please call Chuck at 612-570-1008 or email him at dapperchuckjr (at) aol (dot) com.
Dapper Enterprises LLC.
23953 Johnson St. NE
East Bethel, MN 55005
612-570-1008
Featuring DeFuser