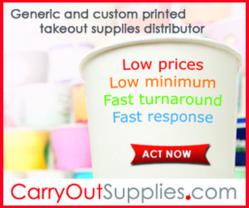 CarryOutSupplies.com is positioning to become a one stop distributor of disposable takeout supples.
City of Industry, CA (PRWEB) October 24, 2012
A new direction comes with the arrival of new season for one takeout supply wholesale distributor, CarryOutSupplies.com. The company is readjusting its strategy in order to serve the broader foodservice market. CarryOutSupplies.com is getting a big increase in terms of product selection and national brands, such as Solo, Genpak, BagCraft, LBP, Chinet, Boardwalk, Marcal, etc.
"These brands are synonymous with quality and they mesh well with our existing products," says Waylon Huang, VP of Operations at CarryOutSupplies.com. "It's been our company's mission since the beginning to provide reasonable prices for good products, not a cheap price for even cheaper products. The addition of these brands parallels our commitment to high quality products."
Mr. Huang goes on to explain that the move is aimed at providing customers with more single-use product options. CarryOutSupplies.com has expanded from its core products of paper cups, plastic cups, and disposable plastic spoons to include items such as food wrapping paper, paper food containers, coffee cup sleeves, portion cups, cup holder trays, and more. And the options will keep expanding to meet the needs of the company's customer base.
"One of our many strengths is providing custom printing on frozen yogurt cups and paper cups and plastic cups of all sizes," added Mr. Huang. "With this influx of well known and trusted brands and their products we are positioning ourselves to become a one stop distributor of disposable takeout supplies."
CarryOutSupplies.com has also recently introduced tier pricing for its online shopping platform. While multiple quantity discounts are not yet available for these recently added products, the pricing is already very low and the company promises to incorporate tier pricing for all products in its webstore in the near future. Bigger volume customers can still contact their experienced sales and customer service reps to receive preferential pricing. All online purchases also receive free shipping. Customers can shop easily and not find themselves being lured in by seemingly low prices only to be gouged at checkout with high shipping costs.
Coffee shops, delis and food-service businesses of all sizes – from mom-and-pop shops to large franchises – can learn more about CarryOutSupplies.com's selection, features and pricing by visiting the company's website. They can also be contacted by calling 888-982-1862 Monday through Friday, from 9am to 6pm (PT).
About CarryOutSupplies.com
CarryOutSupplies.com, the leader in paper and plastic disposable takeout supplies, is dedicated to offering quality products, low prices and reliable customer service. The company started serving the local marketplace in 2004 and expanded its operations in 2007 to serve nationwide demands. Throughout its history, the company has experienced growth every year by maintaining and increasing a loyal clientele, and offering competitive prices and convenience with its free custom print service for custom paper cups and custom plastic cups. Learn more at CarryOutSupplies.com.