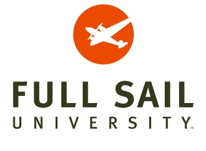 "Full Sail not only taught me how to do what I do, but it gave me the courage to step out on my own and believe in myself as a musician," said Carkeet. "It was much more than just college to me, but an integral part in my journey to where I am now."
Winter Park, FL (PRWEB) October 24, 2012
Full Sail University is proud to welcome Kenny Carkeet, keyboard / guitar player with Red Bull Records artist AWOLNATION to its campus for an exclusive guest lecture and special presentation on October 25. Carkeet, a Full Sail University Recording Arts and Entertainment Business graduate, will discuss his career in the music industry and share insight into the world of touring as a professional musician.
After graduating from Full Sail, Carkeet was hired by music producer Jimmy Messer (Enrique Iglesias, Kelly Clarkson), as an assistant at his recording studio in Venice Beach, CA. Carkeet spent two years working in various roles from setting up gear, engineering tracks, and eventually writing and playing music – which led him to meet and work with AWOLNATION front man, Aaron Bruno.
The bands unique sound, a blend of hard rock and electronica, attracted industry buzz and led them to being signed by Red Bull Records. AWOLNATION's Megalithic Symphony broke the top twenty on Billboard's Alternative Albums chart, with the singles "Sail" and "Not Your Fault" also charting.
"Full Sail not only taught me how to do what I do, but it gave me the courage to step out on my own and believe in myself as a musician," said Carkeet. "It was much more than just college to me, but an integral part in my journey to where I am now." During the event Carkeet will present the university with AWOLNATION's platinum-selling single to be displayed on campus.
"We are humbled each time our graduates return to share their career experience with our current students," said Dana Roun, Director of Audio Arts for Full Sail University. "It is a tremendous honor to know that Kenny will be presenting us with AWOLNATION's platinum-selling single, as it will serve as both a symbol of our graduate's success, while providing inspiration to our current student body. We are delighted to welcome Kenny back to campus for this event."
About Full Sail University:
Full Sail University is an award-winning educational leader for those pursuing careers in the entertainment and media industry. Founded in 1979, Full Sail has been recognized as one of the Top Five Game Degree Programs by Electronic Gaming Monthly, one of the Best Music Programs by Rolling Stone Magazine, and one of the Best Film Programs by UNleashed Magazine. In 2011, Full Sail received the "21st Century Best Practices in Distance Learning Award" from the United States Distance Learning Association, was named the "School/College of the Year" by the Florida Association of Postsecondary Schools and Colleges, and was recognized as one of the Top 100 Social Media Colleges by Studentadvisor.com.
Full Sail offers on-campus and online Master's, Bachelor's, and Associate's degree programs in areas related to animation, art, business, education, graphic design, film, marketing, web development, music, recording arts, sports, and video games. Full Sail graduate credits include work on OSCAR®, Emmy®, GRAMMY®, ADDY®, MTV Video Music Award, and Spike Video Game Award nominated and winning projects.
http://www.fullsail.edu
http://www.twitter.com/fullsail
http://www.facebook.com/fullsailuniversity
###