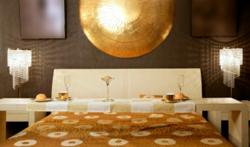 In the search for a home, a car, a flight, or a hotel, a perceived value is always part of the deal.
San Francisco, CA (PRWEB) October 24, 2012
It may be the most overused word in the United States today. In the search for a home, a car, a flight, or a hotel, a perceived value is always part of the deal.
The value concept, like that of beauty, is often personal. The concept of value involves excellence, quality and affordability. This is exactly what can be found in the product line at KindaChic, a home décor and furnishings website. The value concept at KindaChic is found in the convenience of furniture selection through the website and in the ease of delivery provided by the manufacturers at no additional charge.
What is of value today? Value is sought in making a home. Value has to do with comfort, and the furnishings at Kindachic have been chosen for many valuable comforts. Comfort can be found in the elegance of a dining room design updated by a new colorful chandelier or pendant lamp offered in the Living Room section at KindaChic. The unique shapes of the mid century furniture styles can also provide the "aha moment", and can be selected from several sofa, loveseat, and arm chair sets at a reasonable price. An accent piece like the Zuo Modern Rhumba Chair can revamp the family room style to today's modern chic. The classy Amber Glass lamps will provide the missing spark to the bedroom. And comfort will be found in the years of enjoyment ahead in this renovated home setting. All of these valuable qualities are available for the price of one accent piece at KindaChic. An item of value can seem expensive at the outset, but the life lived after delivery will be priceless.
So, aspire to new values without losing sight of the budget. The simplest indulgences are often the most inspired. One of the great pleasures of life can be starting each day with a cup of coffee in the comfort of an updated setting. Now this is true value.