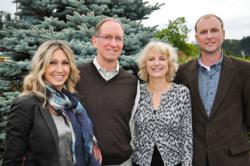 "We're thrilled to attract both Brenda Prowse and Hugh Nelson to our Bainbridge Island branch office of Realogics Sotheby's International Realty," said Stacy Jones
Bainbridge Island, Washington (PRWEB) October 25, 2012
Executives at Realogics Sotheby's International Realty announced today that Brenda Prowse, a top-producing broker in Kitsap County, has united her real estate brokerage operation with the Bainbridge Island branch of Realogics Sotheby's International Realty. Brenda will now operate as The Prowse Group under the Sotheby's International Realty Brand in lieu of operating the Poulsbo-based, independent brokerage Prowse and Company, which she operated with her husband Hugh Nelson since 1998.
"We're thrilled to attract both Brenda Prowse and Hugh Nelson to our Bainbridge Island branch office of Realogics Sotheby's International Realty," said Stacy Jones, Owner and Vice President of the Seattle-based real estate franchise. "Our business models are well aligned and our firm is uniquely positioned to support their goals. We're simply better together."
The Prowse Group will benefit from an expanding infrastructure at both the Seattle and Bainbridge Island branch offices, which includes unmatched regional and global marketing platforms as well as a robust world-wide referral network. Likewise, Brenda will co-list her active listings with Mark Middleton, who also joined recently the Bainbridge Island branch office on October 11, 2012. Collectively, The Prowse Group brokerage team will help Realogics Sotheby's International Realty broaden the company's service area throughout the Kitsap Peninsula, according to Stacy.
"I'm looking forward to being released from day-to-day realty management so I can focus instead on growing my broker business both locally and now abroad," said Brenda. "With the assistance of my expert local team, Hugh and I are able to do more international traveling while exploring referrals through our well-connected office. I'm very excited to be associated with Sotheby's International Realty at this point in my career – I'm ready to take my business to the next level."
Voted the "Best Realtor" in North Kitsap County five years running (2008-2012), Brenda Prowse has been a full time real estate broker in Poulsbo since 1979. Since operating Prowse and Company over the past 14 years, Brenda has listed and sold nearly 800 homes, which places her among the most productive real estate brokers on the Kitsap Peninsula.