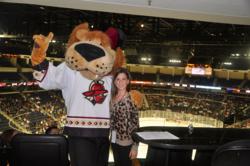 We have had lots of positive feedback from the fans on Jolie's presentation, and we are extremely proud to have contributed to spotlighting her important message…
Atlanta, GA (PRWEB) October 25, 2012
"My Song for Taylor Swift" was written by 10-year-old singer/songwriter Jolie Montlick to honor her favorite artist, and to empower kids to speak up and not be silent bystanders when they see bullying. The music video premiered in Atlanta this weekend for thousands of people who attended the Gwinnett Gladiators professional hockey team's opening weekend. In just two weeks the video has been seen in 23 countries and 45 states.
The Gladiators invited Jolie to appear during their season's opening weekend, as part of their commitment to helping families, to help get this important anti-bullying message out to as many people as possible. During the intermission, a portion of the music video was shown on the stadium's Jumbotrons, and Jolie was interviewed live by in-game Emcee/Host Lewis Alston, from 98.9 FM The Bone.
"We have had lots of positive feedback from the fans on Jolie's presentation, and we are extremely proud to have contributed to spotlighting her important message," said Chris Peace, Director of Marketing for Gwinnett Gladiators Professional Hockey. "We applaud her tremendous poise and her extraordinary dedication to the overall improvement of our community."
"I hope the video will empower kids to speak up when they see bullying, and to be a friend to someone they see being bullied," said Montlick. When asked what advice she had for kids in the audience to help deal with bullying, Montlick replied: "Over half of all kids will be bullied at some point, and 85% of the time other kids just stand by and watch. Don't be a silent bystander." She explained: "It can be as simple as sitting down with someone who is alone at a table, or being a friend to someone who is being picked on. The little things can make a big difference."
Montlick is donating donating 100% of net proceeds from "My Song for Taylor Swift" to the national anti-bullying organization Ambassador for Kids Club (a4kclub.org). The song is available on iTunes and Amazon, along with her other recently released music.
About Jolie Montlick
When not in school or working on her music, Jolie gives generously of her time to help others. As National Spokesperson for A4K, Jolie appears in public service TV messages and news interviews to encourage kids to use their voices to speak out against bullying, and to take positive actions to help kids who are being bullied. Jolie is also a 2nd degree black belt and two-time State Champion in Tae Kwon Do, and has volunteered to teach self-defense and life skills to over 1,000 kids. In addition to "My Song for Taylor Swift", Jolie has just released three new singles that are available on iTunes and Amazon: "Just One Day", "Crazy For You" and "Need You". For more information, please visit JolieMontlick.com.
Please contact us for access to broadcast quality video files, high-resolution photos and mp3 files.