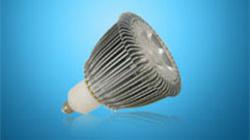 (PRWEB) October 28, 2012
Today, Zhongtian Lighting announces its latest product-----9W LED Spot Light PAR20 [ZT-P20E11-331A]. It is designed to replace traditional bulbs, which play a more significant role in daily life accordingly. This model is ideal for home lighting, commercial shops' decoration lighting, stores, hotels, and cafes and so on. Its technical specifications are as following:
Model: ZT-P20E11-331A
Shade dimension: D62*H89mm
Rated power: 9W
Lamp beads: 3pcs
Housing material: 6030 Aluminum
Input voltage: 85-264VAC/DC,50-60Hz
Efficiency: >0.90
Luminous flux: 400lm (warm white), 550lm (neutral white and cool white)
Beam angle: 15/18/30/45/60 degrees options
Color rendering index: 75±5Ra
Color: Warm white/White/Cool white
Color temperature: (3000K-3500K),(4000K-4500K), (5500K-6500K)
Working temperature: -20℃ - 45 ℃
Luminous efficiency: >70lm/w
Besides, the LED light heads are composed of thick aluminum and unbreakable lenses. Compared with the traditional lights, its working hours last about 20 times longer than that of the bulbs and its power consumption is as less as 10%. LED spot lights emit directional light, focusing on a single area. What's more, with high technology, dynamic management and the color of LED light is available, high color purity and continuous adjustable brightness is realizable, and it can change color with the dynamic transformation and digital management. These LED spot lights perform well with excellent heat dissipation and power supply. Meanwhile, it benefits a lot to the environment and people's eyesight, because the LED spot doesn't contain those hazardous chemical elements such as mercury. It has a stable performance and it can be easily transported and installed with its light weigh and small size.
Zhongtian Lighting is devoted to focusing on the technical innovation and minimizing its price for customers, and builds a good image to the world. Meanwhile, it will introduce other LED series, such as LED tubes, LED bay lights, LED bulbs, LED flood lights and so on. Thus, It will become a bigger comprehensive supplier of LED light with various series and offer the considerate service to the customers.
Please visit http://www.ahlights.com/led-spot-light/led-spot-light-ar111 to learn more about Zhongtian Lighting and its products.