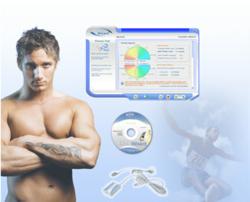 Fitness is not just a way to get fit. Fitness is an enjoyable lifestyle that makes your body happy.
Seattle, WA (PRWEB) October 25, 2012
Released in 2007, Health Reviser is now capturing a bigger fitness market with its new Exercise Recovery Test. Before now, happy Health Reviser owners were tracking only their fitness levels with the existing Fitness Test module. Now end-to-end exercise workouts are under their control.
Many thousands of users worldwide control their health and fitness with Health Reviser. They are already able to pick the food best suited for their bodies, exercise at their personal best time of the day, have a better sleep, monitor their health risks, and track their fitness progress, all with Health Reviser. Now everyone can get a full control over their fitness workouts with the access to the newly released Exercise Recovery Test.
Using a pulse sensor plugged into the computer's USB port, Health Reviser collects real-time heart rate variability data. Then it translates that information into user-friendly graphics to interpret the results and display them on the computer screen. No technical background is necessary to use the product. It is designed for a basic computer user, presenting data in an easy-to-understand, intuitive format. That's how today technologies present valuable health and fitness information to end consumers that was recently available only to healthcare professionals.
"We've got lots of feedback from fitness practitioners who used Health Reviser to pinpoint cases of overtraining and undertraining for their clients with our Fitness Test," explains Alexander Bandarchuk, VP of Engineering. "We've been asked for a post-exercise assessment that would show the dynamics of real-time recovery of the body after exercising. That's how we came with the Exercise Recovery Test."
Due to lack of fitness education many people have a misbalanced fitness program or no program at all. Sleep and food habits that significantly affect body fitness abilities to withstand exercises are completely ignored. As a result, improper workload without sufficient rest strains heart and impacts cardiovascular health. People lose their fitness enthusiasm, become moody and easily irritated, get depressed or passive, and have sleep problems.
Fitness is and must be enjoyable, being not just a way towards weight loss and longevity. Health Reviser Fitness Test is designed to help find the optimal exercise time for each person based on their health state and habits. Another Health Reviser test called 'Exercise Recovery Test' measures body recovery after each exercise ensuring the proper rest time between exercises and provides recommendations on how long to rest before exercising again, or stop exercising.
As a result, body gets the right amount of exercise and rest, getting benefits like a reduced risk of CVD, improved cholesterol levels and mood, normalized blood pressure, reduced stress, higher energy levels, and better cardiovascular health.
Health Reviser is a consumer health and fitness monitoring system backed up by professional technologies being used for about 20 years in more than 30 countries and 50 Universities in USA, Europe and Japan, by Russian Academy of Science and Russian national research organization for space medicine and many others.