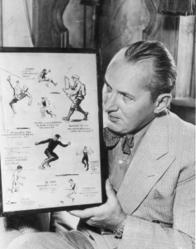 I know this family of scanners will change the way historic data is archived, especially since it makes archiving affordable.
Altamonte Springs, FL (PRWEB) October 24, 2012
Almost a century of delicate original cartoons by the legendary cartoonist and adventurer Robert Ripley of "Believe it or Not" fame have been archived in high quality, high resolution files thanks to the talents and technology of Richard Lippert, owner and founder of EZPhotoScan.com and his team of imaging professionals. Proving the mettle of Kodak's new high speed, high volume scanners, and the abilities of E-Z Photo Scan's Altamonte Springs staff, nearly a century of Ripley memorabilia has now been preserved expertly and permanently for future generations to appreciate.
The fragile paper comics Ripley began creating in 1918 document his career, his personal history beginning as a sports columnist in New York, and the sources and stories behind his cartoons.
Two years ago, Ripley Entertainment began the laborious process of flatbed scanning each irreplaceable document for input into its MediaBin Digital Asset Management system. The project came to a quick halt as the labor costs to hand feed the enormous volume of content to a slow flatbed scanner became cost prohibitive.
In late 2010, EZPhotoScan.com introduced Ripley's curators to the Kodak PS810 Picture Saver Scanning System, a new breed of high volume, high speed scanners equipped with the Gentle Photo Separator Module, capable of scanning up to 65 pieces per minute safely, without harming the originals.
Lippert and his team were able to transport the compact PS810 to the Ripley's Worldwide Corporate Headquarters located in Orlando to scan each document on-site, near the company's locked archive vault. Lippert was able to create enhanced document security and process visibility for the valuable originals and master copies without removing them from the safety of the site.
Scanning at high volume, Lippert was able to archive about one year's worth of cartoons and supporting photos at 600 dpi each day, storing each document in color and grayscale TIFF files. Kodak Picture Saver Scanning Software and Kodak Capture Desktop Software were used to achieve superior image quality.
Sue Dubois, Content Management Systems Administrator for the Ripley's Entertainment in Orlando says Lippert's team from EZPhotoScan.com was able to digitize 90 years' worth of daily Ripley's cartoons and documentation in just a few months – no easy task considering how delicate the earliest years' files are.
"The scans are all high resolution, and (the E-Z Photo Scan team) approached the project with a lot of care," DuBois says. "This is 90 years of daily cartoons, and many of the documents from the early years are quite fragile, so we had to put the job off in the past.
"Once the technology improved, we sent out proposals for the archiving project and EZPhotoScan seemed to have the equipment, the trained staff, and the diligence to handle it, and they've proven to us that we chose the right team."
Project Manager Chris Hart of E-Z Photo Scan said they began the project by scanning cartoons and documents dated Jan. 1, 1950, and worked their way through the 1950's and 1960's before going back and scanning the most delicate pieces from the 1920s. Hart's team scanned nine decades in all, and each decade, he says, had its own quirky nature.
"The 1930s, for instance, has a lot of examples of animals with deformities, like two legged animals that should have had four legs," he says. "The 1940s is focused on (World War II). We worked closely with Ripley's Vice President of Archives and Exhibits Edward Meyer, and we kept our eyes open for hidden archives that were contained within some of the folders."
One such hidden archive, a petrified nut, is now a featured item in the new two-story, 10,000-square-foot Ripley's Believe it or Not museum in Baltimore's Inner Harbor. A more ominous item was a World War II-era letter written to Robert Ripley in German and chillingly signed "heil Hitler."
Lippert says the Ripley's comics and documents are a perfect example of historic treasures that need to be archived gingerly to preserve the integrity of the aging originals. Only a high speed, high volume scanner designed to handle even the most fragile collections can provide a cost-effective solution to this type of specialized archiving.
As a young sports reporter, Ripley would submit nine-panel cartoons called "Champs and Chumps" which chronicled odd but actual sports – a backward running race, an ice jump, etc. The enthusiastic response to that first cartoon – the precursor to the iconic "Ripley's Believe It or Not" cartoons – launched his career as a teller of bizarre facts.
Ripley's cartoon was syndicated in 1929, and remains today one of Americana's most identifiable images.
"It was an honor to help preserve the incredible Ripley collection," Lippert says. "This is exactly the type of heritage preservation project the PS810 was designed to take on.
"I know this family of scanners will change the way historic data is archived, especially since it makes archiving affordable."
For more information on special value pricing for Kodak high volume, high speed photo scanners, visit the EZPhotoScan.com website, call 1-866-562-4660, or Email info(at)EZPhotoScan(dot)com.
About EZPhotoScan.com:
Founded by owner Richard Lippert in 1995, EZPhotoScan.com has turned the task of managing documents into an art form. The EZPhotoScan.com group was formed to offer best-in-class solutions for scanning pictures, printed memories, and sensitive documents. EZPhotoScan.com provides full service assistance to individuals looking to do their own scanning, have it done for them, or start their own conversion service.
###