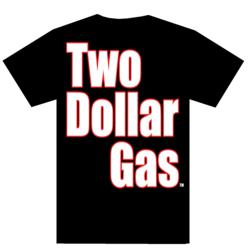 "We cannot tolerate excessive greed from Big Oil without any social responsibility."
Los Angeles, CA (PRWEB) October 25, 2012
A Los Angeles entrepreneur calling America's motorists to stand up and fight against high gas prices has launched "Two-Dollar Gas", a viral communications campaign encouraging consumers to protest big oil interests, including a boycott of the most profitable major oil companies. The "Two-Dollar Gas" campaign kicks off with a catchy hip-hop song and short comedic film, "Pumped at the Pump", which writer, producer and director Mark Saint Juste hopes will inspire a grassroots movement uniting America's more than 200 million motorists.
The multi-platform, viral Two-Dollar Gas campaign is anchored by a website (http://www.twodollargas.com), the "Pumped at the Pump" song, a supporting short comedic film, T-shirts and more. Its purpose is to help America's more than 200 million motorists understand that they possess the irrepressible power to vote with their wallets, and that no politician or corporation can continue to get over at their personal expense.
"I'm worried about the average Joe who doesn't feel like he has any voice," says Saint Juste, an entrepreneur and entertainment producer. "As long as we can organize ourselves together collectively, we can change anything. We are not powerless to any corporations or politicians. We have an economic vote in our pocket and we can change things."
By helping America's motorists to appreciate that they no longer need to be "Pumped at the Pump" by "Big Oil" but can instead choose which companies we buy gas from, Saint Juste believes everyone can have a part in rebalancing the economic levers of supply, demand and all-American market competition.
He hopes the result is falling gas prices, which ease the economic malaise facing our nation and keeping so many working Americans down.
"Some folks today figure, 'Let me stuff my pockets with as much as a I can,' and so we all lose out in the cycle of economic harmony that makes this country so great," Saint Juste says. "We cannot tolerate excessive greed from Big Oil without any social responsibility."
Seven of the world's ten most revenue-rich businesses are linked to oil and they're led by Exxon Mobil. Between them, the American "Big Three" of Exxon Mobile ($73 billion), Chevron ($48 billion) and Conoco Phillips ($23 billion) took a combined $144 billion in operating income from inside America's wallets in 2011. That either exceeds or is near record high profits for each of those companies.
And so, the new "Pumped at the Pump" song beckons to consumers:
"Don't give a dime, dollar or quarter. Transform our paper into bread and water. Don't feed, equals hunger and they start to think. Start to watch the profits shrink. 'Cause they need this bread to survive. Give us two dollar gas and we'll keep you alive."
Saint Juste hopes consumers will visit the "Two-Dollar Gas" website to "Like" on Facebook, relay to their Twitter followers and help combine into a potent grassroots initiative.
"We can't just say, 'Woe is me.' We have to control our situation, and the way that we do that is to simply join together collectively," he says. "When we have a common goal and take unified action, we can achieve many things."