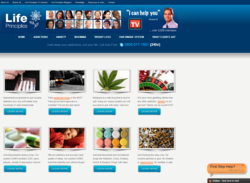 With the new interactive blog, online booking and live chat system we are helping more and more people with serious problems
Birmingham (PRWEB UK) 29 October 2012
Shokat Ali's new website http://www.lifeprinciples.co.uk has been designed to be simpler for people to join and get the help or information they need quickly. The site also boasts a more graphically pleasing interface for the user and live chat system direct to agents. Back-office, a simplified management system.
Life Principles are not like normal rehabilitation centres in many ways but particularly in service cost and approach of the client, offering a more personalised service than many larger centre's.
Shokat Ali's rehabilitation and holistic treatment centre is famed with an extremely high success rate and guaranteed results.
More over thousands of satisfied customers and willing video case studies can be seen on the new website http://www.lifeprinciples.co.uk or over 300 video's available on the YouTube channel.
The Life Principles centre can help people with a wide array of problems (over 200 types) and the new website has been organised in key categories. The categories are mainly around addiction rehabilitation and include: Gambling, Cocaine, Alcohol, Smoking cessation, Cannabis, Crack, Weight Loss and Anxiety to mention a few.
The variety of help offered is wide ranging from phobia's, addictions and general physcological help. The "Baggage of Life" service aims to clear stress and anxiety that prevents addiction help and often is used in combination.
Using a unique and pioneering 3 step hypnosis method Shokat Ali also famed with treating people with their addictions live on daytime TV was quoted to say:
"I am delighted with the new website and our clients have responded with great feedback. New and existing clients now have many ways to engage with us. With the new interactive blog, online booking and Live Chat system we are helping more and more people get off some very serious addictions."
The http://www.lifeprinciples.co.uk website was officially launched 1st 2012 September and all new inquiries will be taken here. Clients still have the free phone number 0800 071 1991 and can be called 24 hours a day.
Life Principles have accumulated a massive amount of content which is often useful for clients to digest before seeking treatment. This content is now behind a FREE members area and available upon request, clients simply need to register to become a member and download.
The http://www.lifeprinciples.co.uk website and online campaign is being managed and optimised by http://www.capitalwebmarketing.co.uk A Milton Keynes Google Engage based internet agency. Clients of Life Principles should please remember to contact 0800 071 1991 directly.