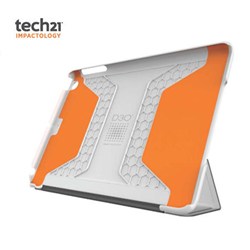 Birmingham, West Midlands (PRWEB UK) 24 October 2012
Once again the world stood in awe as Apple announced the iPad Mini; the smaller sized tablet to rival both the Google Nexus 7 and the Kindle Fire HD. Thinner than a pencil and as lights as a pad of paper, the iPad Mini is out to impress and silence its critics.
In order to help keep the iPad Mini looking newer for longer, Mobile Fun have sourced a wide range of iPad Mini case styles from a number of brands including the Tech21 Impact Snap with Cover, a truly protective case which uses state of art technology, like the iPad itself.
Designed to be slimline and extremely protective the Tech 21 iPad Mini case uses an innovative substance called d3o impactology technology to ensure that the iPad is fully protected from daily bumps, drops, scrapes and scratches. Built into the case, the d3o substance hardens upon impact, therefore absorbing any shocks which may have otherwise damaged the iPad Mini.
Covering the entire new smaller iPad, the Impact Snap With Cover iPad Mini cover clips onto the back of the tablet and uses a front cover to protect the 7.9" display of the iPad Mini when the tablet isn't in use. However, when the iPad Mini is being used the front cover can be folded back to become a handy stand, allowing the Mini to be stood at the perfect angle for typing, swiping, using apps and streaming media.
Featuring the new Lightning connector port the iPad Mini runs a powerful A5 chip, has two cameras, one perfect for FaceTime and the other great for capturing memories and allows for ultra-fast internet connections. With Apple's focus being on iBooks the iPad Mini also aims to be the ultimate reading tool for on the go, so protection like that offered by the Tech21 Impact Snap with Cover is vital.
So that the iPad Mini is always protected, the Impact Snap with Cover contains all the cut-outs for the ports and features of the iPad, so that other iPad Mini accessories can be used without removing the cover. This keeps the iPad Mini fully protected at all times, even when charging so that it continues to look newer for longer.
The Tech21 Impact Snap with Cover is available to pre-order now from Mobile Fun, along with a range of other iPad Mini cases from brands such as Cygnett, Gumdrop and Trident.
About Mobile Fun
Birmingham based Mobile Fun is the UK's leading online retailer of mobile phone accessories, tablet accessories, sim free phones, ringtones and mobile java games. Mobile Fun has offices in the UK, USA, Spain, France and Germany and ships to over 50 countries worldwide. Mobile Fun was named 'Online Retailer of the Year' at the Mobile News Awards 2012 for the second year running and was ranked 6th in the Experian Hitwise Top 10 websites of 2010.