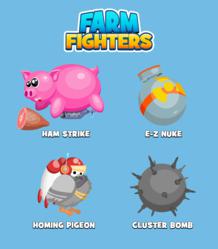 "It's going to be a really fun multiplayer game!" David Darling CEO Kwalee and Co-Founder of Codemasters
Leamington Spa, Warwickshire, UK (PRWEB) October 25, 2012
Ever fancied firing a cluster bomb at a sheep? Or perhaps donning your pimp hat and dropping a nuke on a pig? Or maybe an airstrike is more appealing? All these things and more are possible in the new turn based game from Kwalee - Farm Fighters.
Let's start with the cannons, mounted to the back of the furry combatant there are a choice of twelve to start with, ranging from the quirky looking pirate cannon to a homage to Kwalee's last game - the Pussy Flip cannon. The cannons all have their own pros and cons and enable the player to take out the challenger in varied ways, making Farm Fighters a fun and enjoyable experience tailored to the players personal style.
With the cannon firmly mounted, it's time to visit the ammunition shed. Here the player will find an array of explosive devices ready to be loaded into whichever cannon is being used. The mighty E-Z Nuke Bomb may sound like it's an easy way to win but there's a twist in store… and for those players who prefer the scatter approach they need look no further than the Ham Strike or perhaps the Cluster Bomb with its double touch aiming control.
Nestled in amongst these great options is the Homing Pigeon, a loyal and trusty member of the avian family ready to be shot from the cannon and then be guided home (or into a sheep's face) by the player via the phone's accelerometer control.
With Farm Fighters Kwalee are taking huge steps forward as a studio, "This is our first proper game in terms of original gameplay with physics, and the buzz surrounding it right now in the office is amazing! Having so many creative people on board to contribute means the game is always evolving and getting better and most importantly to me - it's going to be a really fun multiplayer game!" David Darling CEO Kwalee and Co-Founder of Codemasters
The Kwalee team are hard at work putting the finishing touches to the game, so keep an eye on kwalee.com for more game updates and information and of course wacky videos as we count down the days until Farm Fighters is unleashed upon the world.
########
Kwalee is a company based in Leamington Spa that develop and publish social multiplayer games for iPhone and other mobile devices.
Founded by David Darling CBE, co-founder of Codemasters, with decades of experience at the top level of the video game industry and contributions to many #1 games on numerous platforms in his CV. Kwalee is different. We seek to excite and entertain our customers with innovative new products that provide special experiences.
Our ethos is based around a set of core values that put the customer first and which harness the creative skills of our staff to the maximum in order to do so. Kwalee is always very actively looking for those special people who want to join us in our exciting journey.
For more information on Kwalee, check out kwalee.com Like on facebook.com/kwaleeteam and follow @kwaleeteam on Twitter
########
Please contact ian.kane(at)kwalee(dot)com for interview opportunities and more information.