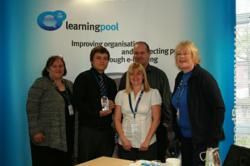 "We're delighted to win this award and feel the nomination recognises the hard work and innovation that has gone in to helping create a different learning culture within the council."

Paul Brooks, L & OD Manager, Northumberland County Council
(PRWEB UK) 26 October 2012
Northumberland Council has won a prestigious e-learning award from Learning Pool, the largest provider of e-learning to the public sector. Now in their fourth year, Learning Pool's Public Sector Learning Awards recognise the best e-learning work from across local government in the UK.
Judges were impressed that the council set themselves a huge challenge of launching TotaraLMS, a custom distribution of Moodle, across a dispersed geographical area. This involved the setting up 5000 individual learning accounts for staff, all with individual learning plans, in the space of less than 8 months.
Speaking today, Paul McElvaney, Learning Pool Director said, "The team at Northumberland fought off stiff competition from authorities all over the country to win this award which is very well deserved. In just eight months the team at Northumberland Council have established an engaging talent management system with 5000 users actively engaged".
Andrew Tebbutt, executive member for corporate resources, said:
"The virtual learning environment programme is just one of the many measures we have implemented, and are implementing, to make Northumberland County Council a smarter working and more efficient council. We have kept Council Tax rises below inflation and maintained frontline services while making £100 million in savings in the council's budget, a record we are very proud of".
Paul Brooks, Learning and Organisational Development Manager, Northumberland County Council said:
"The whole team are delighted to win this year's 'Regional Organisation of the Year' Award and feel the nomination recognises the hard work and innovation that has gone in to helping create a different learning culture within the council."
"We're really excited about the opportunity TotaraLMS brings Northumberland Council. Before implementation, we found ourselves involved in more and more conversations about talent management and performance appraisal and we recognised that Totara was the low cost, flexible solution to meet this challenge."
"Through the successful roll out of the "Learning Together" platform, the organisation's new talent management solution, we're confident that we will deliver powerful results and prove a real return of investment".